Photos by Jacqueline Russell
If you're looking for an easy way to add some spring charm to your upcoming gatherings, try these fun ideas for a bunny brunch! These entertaining projects are the perfect addition to an Easter lunch, or a creative way to wake up any meal.
Build A Bunny Grazing Board
Buy your favorite pastel treats and Easter candy to create a grazing board that's perfect for snacking on throughout the day. Start with a serving tray and a few small bowls. Cupcake liners also make great holders for small items, like M&Ms. Fill your bowls with small candies and layer in cookies and other treats around them until you have a full board. Here are some of my favorite candies for this project, each of which you can find at the Dollar Tree. 
›› Cotton candy
›› Jelly beans
›› Rock candy
›› Strawberry wafer cookies
›› Golden chocolate eggs
›› Dinner mints
›› Robin's egg bubble gum
›› Peeps
›› Butter cookies
›› Easter peanut butter cups
›› Sweet-Tarts
›› Easter M&Ms
›› Lemon sandwich cookies
›› Powder candy-filled carrots
›› Chocolate bunnies
Set The Stage
Spring and pastels are best friends. Set your table with placemats or a tablecloth in pinks, light blues and buttery yellows. 
Add a vase of tulips to dress up any table. 
Turn plain cocktail napkins into cheerful bunny ears using the steps below. Set them in a clear plastic cup – adorned with a cotton ball for a bunny tail – for an extra pop.
Step 1: Unfold a cocktail napkin once to form a rectangle.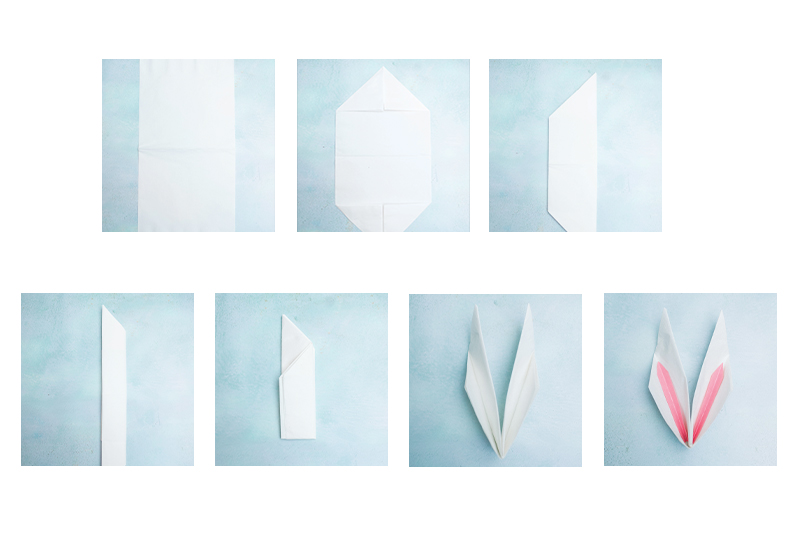 Step 2: Fold down all four corners, forming triangles.
Step 3: Fold the napkin in half lengthwise.
Step 4: Fold the napkin again lengthwise.
Step 5: Fold the napkin in half top to bottom.
Step 6:  Fluff out bunny ears.
Step 7: Add pink construction paper with double-sided tape for the inside of the bunny ears.
Bunny Pancakes
For the cutest breakfast ever, make bunny tail pancake stacks. Make several small pancakes or buy the frozen ones from the grocery store. Stack three or four pancakes and top them with a "bunny tail," using whipped cream or a powdered donut hole. Last, cut bacon into triangles to make bunny ears! 
These easy projects are sure to delight kids and adults alike. Hop to it!