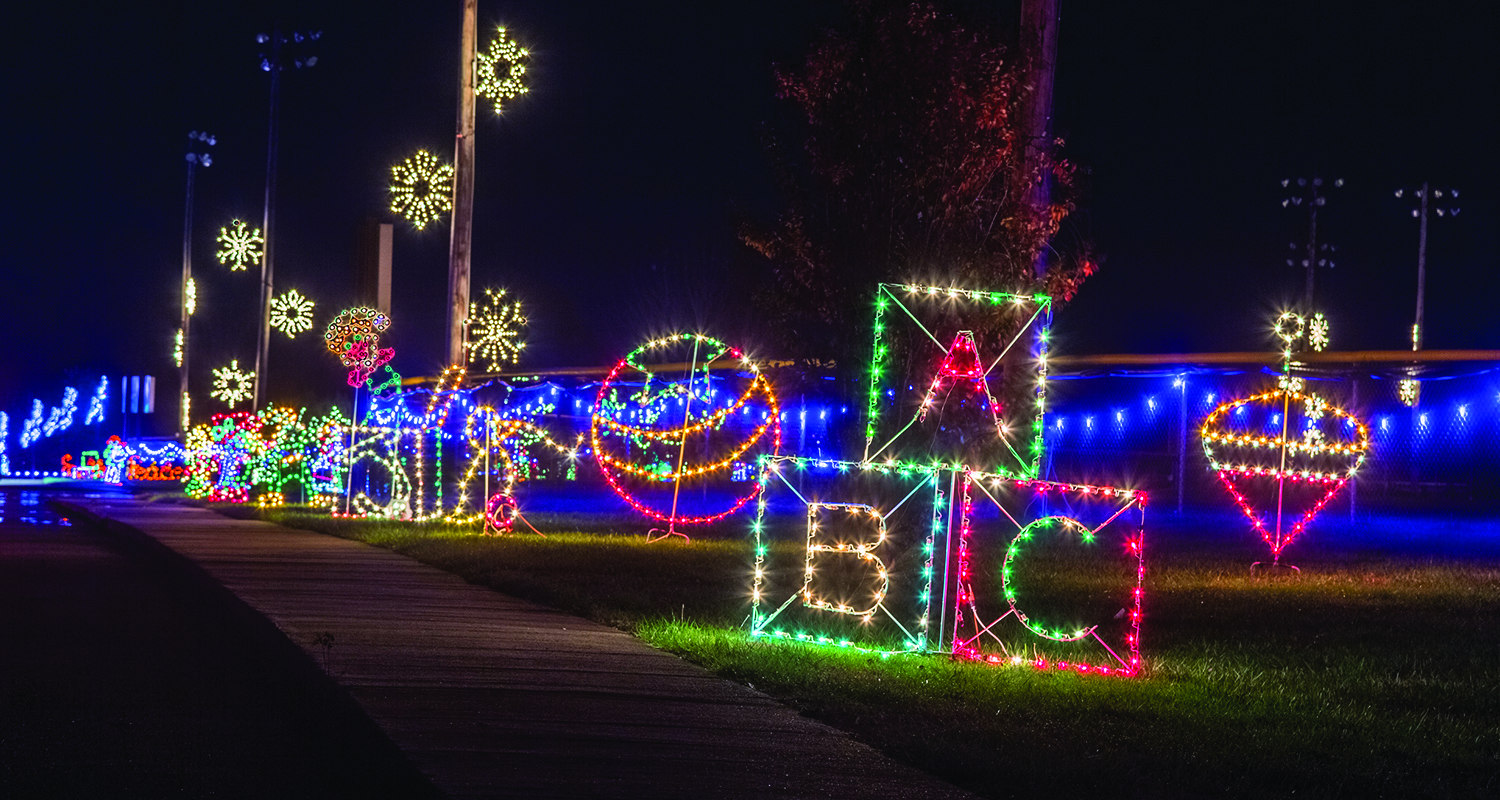 Christmas at Panther Creek
5 – 10 p.m. through New Year's Day
Panther Creek Park
Daviess County Parks & Recreation will be putting on Christmas at Panther Creek for the 18th time this year. The holiday light display allows vehicles to drive through a large area of the park to see thousands of Christmas lights and outdoor decorations on display. Admission is $5 per vehicle.
Energy on Ice
December 3 from 6 – 10 p.m.
December 4 from 1 – 9 p.m.
December 5 from 2 – 7 p.m. 
– movie night – A Christmas Story
December 10 from 6 – 10 p.m.
December 11 from 1 – 9 p.m.
December 12 from 2 – 7 p.m. 
– movie night – Polar Express
December 17 from 6 – 10 p.m.
December 18 from 1 – 9 p.m.
December 19 from 2 – 7 p.m. 
– movie night – Christmas Vacation
Owensboro Convention Center
Energy on Ice is a portable ice rink installed on the Kentucky Legend Pier at the Owensboro Convention Center. This outdoor skating experience includes festive holiday lighting, music, food and drink concessions, skate rentals, and outdoor seating for spectators. Energy On Ice is sponsored by Southern Star Central Gas Pipeline, Atmos Energy, Boardwalk Pipeline Partners, and the Staton Family Foundation. For more information, visit owensborocenter.com
Holiday Photo Night
December 3 from 5 – 8 p.m.
Smothers Park
Bring your family downtown to Smothers Park for free professional photos by Wonder Boy Media with Christmas backdrops! Get a photo with the new iconic blue bridge lit up with your favorite Christmas colors in the background or have your family miraculously transported into a winter wonderland.
Friday After 5 Christmas Edition
December 3, 10, 17 from 5 – 8 p.m.
Holiday Inn Owensboro Riverfront 
Enjoy food and drinks and the sounds of the holidays with live music.
Holiday Stroll
December 4 from 12 – 9 p.m.
Downtown Owensboro
Join us in Downtown Owensboro for special Christmas shopping in local shops and downtown dining after the Christmas tree lighting event! At 5 p.m. will be the annual lighting of the Smothers Park Christmas tree! 
Dancing Lights
Friday, Saturday & Sunday evenings in December from 5 – 9 p.m.
Smothers Park
The City of Owensboro will unveil brand new dancing lights at Smothers Park. Holiday lights will transform the center portion of Smothers Park in downtown Owensboro into an interactive holiday light show. Every 15 minutes, lights will dance to a different classic Christmas carol. It is a spectacle that you won't want to miss!
Lanham Brothers Jamboree
December 4 at 7 p.m.
Bluegrass Music Hall of Fame and Museum
Brothers Randy and Barry Lanham celebrating roots music, clogging, and Kentucky arts with the Lanham Brothers Jamboree. The Lanham Brothers Jamboree Christmas Show is a fundraiser for Volunteer Owensboro.
The Nutcracker
December 4 at 7 p.m. & December 5 at 3 p.m.
RiverPark Center
The Nutcracker has been delighting audiences for 28 years, becoming a staple for so many during the holiday season. The Nutcracker offers something for everyone to love and enjoy; showcasing the skills of ODT's Company and Apprentice Company, 4 professional dancers, and over 120 community members.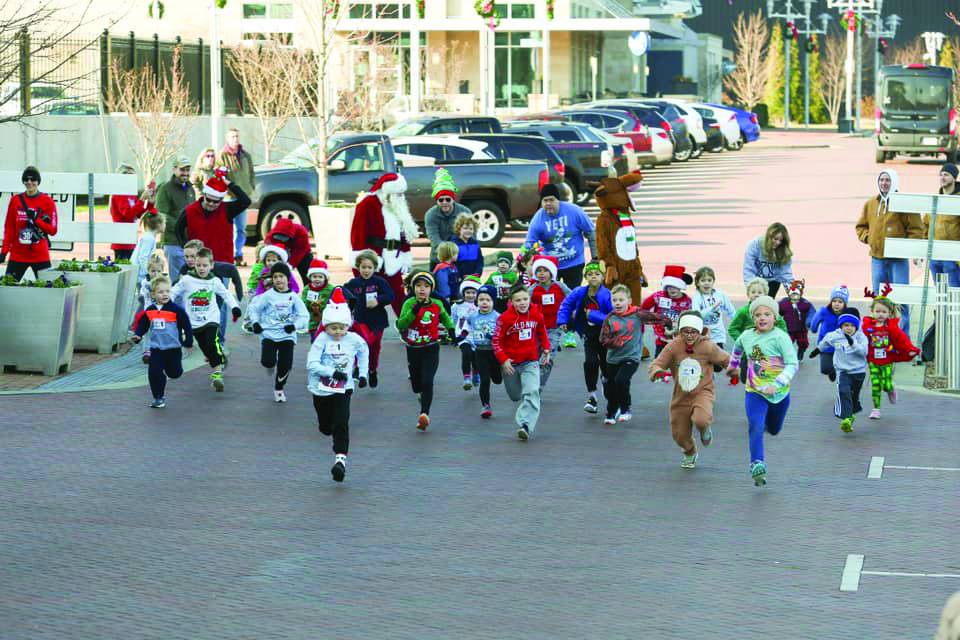 Reindeer Run
December 4 at 8 a.m.
Smothers Park
The 7th Annual Care Net 5K Reindeer Run/Walk is a family-fun event open to runners and walkers of all types so grab your family members, friends, or co-workers and join the fun! This race will be a timed event for the purposes of awarding winner divisions.  Participants are encouraged to come dressed in Christmas attire (ugly sweaters, Santa hats, bells, fun socks, etc.).  Visit with Santa, enjoy hot chocolate, and win door prizes as we kick off the Christmas season. Children 7 and under can participate in the Reindeer Dash.  It's a short dash down the main event strip.  Dress your little one up in Christmas attire and enjoy a fun dash with Santa to the finish line.
Hot Chocolate Hop
December 10 from 5 – 9 p.m.
Downtown Owensboro
Enjoy the second annual Hot Chocolate Hop! Various local downtown businesses will be selling different specialty hot chocolate drinks. While you're strolling downtown, check out the ice sculptures along Second Street or take a ride on the Brew Bridge Trolley!
Breakfast with Santa
December 11 from 7:30 – 10 a.m.
Owensboro Convention Center
Guests can enjoy all-you-can-eat pancakes, sausage and your choice of juice, coffee or hot chocolate at the 4th annual Breakfast with Santa event at the Owensboro Convention Center. Santa and Mrs. Claus will mingle with children and be available for free photos. Letters to Santa will be accepted as well. All attendees will be required to wear a mask or facial covering except while seated and eating at their table. Tickets are $10 in advance or $12 at the door. Children 2 and under will get in free. Family packs of four tickets are available for $32. 
Santa at Reid's Orchard
December 11 & 12 from 1 – 3 p.m.
Santa Claus will be paying a visit to Reid's Orchard! on Saturday, December 11 and Sunday, December 12 from 1-3 p.m. Parents, bring your kids and camera to get some great Christmas photos. 
Home for the Holidays
December 11 at 7 p.m.
RiverPark Center
Come Home for the Holidays to enjoy this jolly and festive celebration! This concert promises to mesmerize listeners with traditional favorites and fresh new works, including selections from The Nutcracker, Scrooge and everyone's favorite…White Christmas. The Owensboro Symphony Chorus and the Youth Orchestra will perform heartwarming holiday favorites too. Celebrate this annual holiday tradition with your Owensboro Symphony.
Steven Curtis Chapman Acoustic Christmas
December 13 at 7 p.m.
Bluegrass Music Hall of Fame
Steven Curtis Chapman is bringing the holiday spirit to the Bluegrass Music Hall of Fame! In a career that has spanned over 30 years, Chapman is the most awarded artist in Christian music history with 59 Gospel Music Association Dove Awards, five Grammys, an American Music Award, 49 No. 1 singles and more than 11 million albums sold. 
Santa's Sweets
December 17 from 5 – 9 p.m.
Downtown Owensboro
Satisfy your holiday sweet tooth with some indulgent specialty treats from downtown restaurants and businesses.
12 Days of Christmas Downtown 
Scavenger Hunt
December 18 from 10 a.m. – 8 p.m.
Downtown Owensboro
Graphics depicting all 12 Days of Christmas will be hidden downtown- look up, look down, look all around (just like you did as a kid trying to find where your parents hid the presents!) You will get a map that morning to help you start your search and then find clues on Facebook throughout the day.
Mannheim Steamroller Christmas
December 21 at 7 p.m.
RiverPark Center
Do you remember the first time you heard the Christmas sounds of Mannheim Steamroller? You can again celebrate the holiday magic of Mannheim Steamroller in 2021 when they bring their annual holiday tour to fans throughout the country. While 2020 was the first year the group was unable to tour in 35 years, 2021 will reunite the #1 Christmas music artist in history with its legion of long-time fans. Experience the music that has become the hallmark of the holidays and a tradition for multi-generational families: Mannheim Steamroller Christmas live in concert in 2021!