Photos by Jamie Alexander
At just three months old, Hudson Russelburg received hearing aids. Before he turned 1, he would have bilateral cochlear implants. 
"Hudson was born on March 6; the pregnancy and everything was great," shared Hudson's mother, Morgan Russelburg. "The nurse came in to do the newborn hearing screening, and he failed."
As Morgan recounts those moments, the nurse explained to her and her husband that many babies fail their first hearing test. The following day Hudson was retested, and the results were the same.
"So at that point, we were like, what does this mean?" Morgan said.
A follow-up appointment with an audiologist was confirmed when Hudson would be around one month old for that visit. In the meantime, his parents, Morgan and Tristan, undisputedly confirmed the results and knew their son had a severe and what would later be confirmed as bordering on profound hearing loss. 
"A lot of baby toys, they make noise, they crinkle. He didn't have a lot of interest in them because he couldn't hear them," described Morgan. "You could tell he couldn't hear it; it didn't phase him at all. We would stand behind him and make noises, and he did not respond. We knew it was serious."
The Russelburg's oldest son had some developmental delays, so they were familiar with the frequent doctor's visits, but when Hudson failed his third test with a local audiologist, that's when they started to worry. Morgan began to wonder if this meant her son couldn't hear at all. 
Already having an established plan of care at Cincinnati Children's Hospital with their oldest son, the Russelburg's would soon be frequenting Cincinnati once again.
"We got into Cincinnati Children's within two weeks," Morgan said. "They did extensive testing and that's when we found out he had severe to profound hearing loss. We learned he could probably hear our dog bark, but nothing quieter than that, which is a considerable degree of hearing loss."
The extensive testing shed light on what levels of hearing loss Hudson was experiencing. A follow-up visit to Cincinnati would involve a repeat test to confirm, along with being fitted for hearing aids on that same visit.
"My initial thought was to start building a game plan to make sure we were prepared to provide Hudson the support he needed to be successful," said Hudson's dad, Tristan. "I just want my children to be happy and feel accepted. I want Hudson to be able to live a normal life."
Although the next few months were anything but normal for a newborn, Hudson was on the road to hopefully gaining the ability to hear. However, keeping hearing aids on a less than 1-year-old was a struggle and adventure in and of itself. While gaining knowledge with each appointment, the couple knew the hearing aids were likely not to be an instant fix.
"The team had a way of being super honest with you," Morgan said. "We knew from that first appointment, due to the significance of Hudson's hearing loss, we were probably going down the cochlear implant route."
During the hearing aid trial, the couple started to research cochlear implants along with resources in Owensboro. They knew they would need a speech therapist with experience with children with hearing loss, which is vastly different from speech therapy for children able to hear. Due to Hudson's hearing loss, he also had motor delays, so soon, he would be in both physical therapy and speech therapy at Wendell Foster.
"To be approved for cochlear implants, you typically have to wear hearing aids for three months and have to prove that within speech range Hudson was still not able to hear with those hearing aids," explained Morgan. "At the three-month mark, we went back, and it was established the hearing aids weren't working."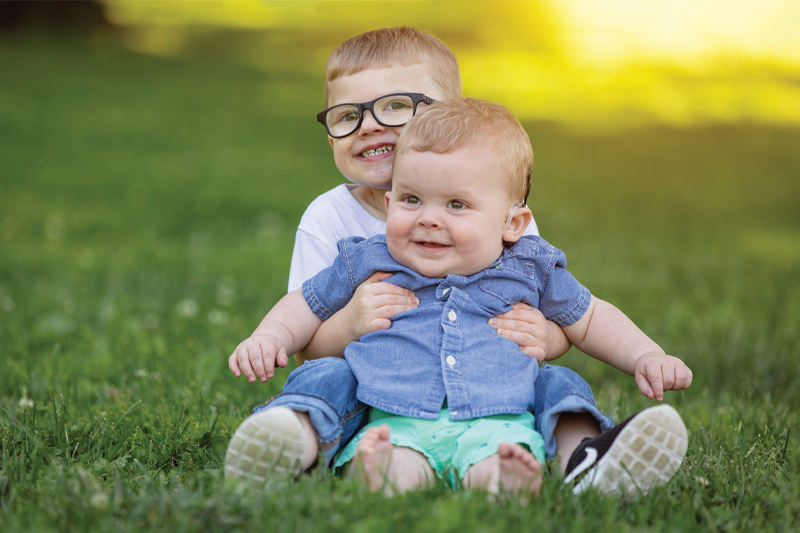 The Russelburgs began the process with the cochlear implant board at Cincinnati Children's to be approved for implants. Hudson had a litany of tests and provider visits, including an MRI, meeting with a developmental pediatrician to rule out any other findings, bloodwork to rule out any other diseases or viruses that could have caused the hearing loss, and a visit with the ENT.
"Prior to his surgery, my biggest worry was that he would have the surgery and when the implants were turned on, he would either hate them, or they just wouldn't work," Morgan said. "I was thinking still very short term at that point."
All testing for other causes came back negative. Hudson was a textbook candidate for the surgery and was approved.
"When they approved us, our insurance worked really fast actually, and he was implanted on December 30, 2020," shared Morgan. "Before activating the implants, you have to wait around two weeks after surgery because of all the swelling and to allow time for everything to heal."
On January 12, 2021, Hudson's cochlear implants were activated.  
"Can you hear Daddy?" Tristan asked with excitement that only a parent in his shoes could fully comprehend as Hudson heard distinguishable speech for the first time. 
With Mommy holding him, his baby babble and the expression on his face said it all.
"We are so thankful for everyone who prayed for Hudson and our family through this entire process," Morgan said. "We have a long way to go with speech therapy, but we are so excited!"
The family meets with an audiologist every three months, and they adjust his program on his implants. Hudson has speech therapy at Wendell Foster and is continuing to make great progress. His test scores are up as much as 50% in some areas.
"He's starting to respond to his name now and responding to environmental sounds," shared Morgan. "He's done very, very well."
Although he's starting to catch up, Hudson's development of language skills may take a while, and one of the family's biggest worries is how his hearing loss is going to affect his life or ability to communicate with others. 
"This journey has taught me that there are an overwhelming amount of resources for parents of children with hearing loss," Tristan said. "Our ultimate goal for Hudson is a sense of normalcy with his hearing and speech through the use of his cochlear implants, but we wanted to make sure that we are prepared if that doesn't go as we hope or plan. Morgan and I have both been able to take a beginner's American Sign Language course free of charge and plan to teach Hudson as we learn. We want to make sure he has the option to use ASL if he chooses to later in life."
The journey has undoubtedly impacted the family as a whole. 
"He gets excited about random noises now, which cracks us up—like the microwave beeping or tapping your fingers on a desk, and he gets so excited," shared Morgan. "He's going to teach us a lot of things. It gets emotional to talk about, but God's got this."
The family encourages all new families affected by hearing loss to reach out for resources and get connected. They also stress the importance of newborn hearing tests. 
"Those infant hearing screenings are critical and helped us learn of his hearing loss early on; otherwise, we might not have identified it for several months," shared Morgan. "If parents of kids with hearing loss are reading this, it's overwhelming, but it's going to be OK. Through a lot of prayers and talking with other moms with kids with different needs, I've realized it's going to be OK, and I find comfort in the community of people that we've been connected to."