Jonathan's Garden Plants
  

and Fresh Produce

Photos by Jamie Alexander

A seventh grader at Heritage Christian School and a future fourth-generation farmer, Jonathan Berry has been exceeding expectations since the day he was born. The premature infant who was diagnosed with hydrocephalus, and was never expected to reach routine developmental milestones, is now running his own produce business and has his sights set on one day running the family farm.

When asked where his passion for farming comes from, Jonathan responded innocently.

"I don't know," he said. "I just grew up on a farm and I like doing it."

Jonathan's dad, Curtis, said Jonathan has had a love of farming since he was a toddler. 

"Since he was 2 years old," Curtis said. "He'd go with me on the tractor and I'd strap him in the buddy seat. [Now] he likes operating the equipment."

The family lives on Curtis' grandparents' farm where they raise sheep and cows, as well as corn, beans and tobacco. Although Berry Farms has been selling plants to other farmers for the past 25 years, the idea for Jonathan to start his own side business began last year after he and his dad gave away their leftover produce to people they knew in town.

"We had a lot left over," Curtis said. "People said we should be selling it instead of giving it away."

The family had three heated greenhouses on their land for tobacco, but found going into 2021 they wouldn't be needing them all.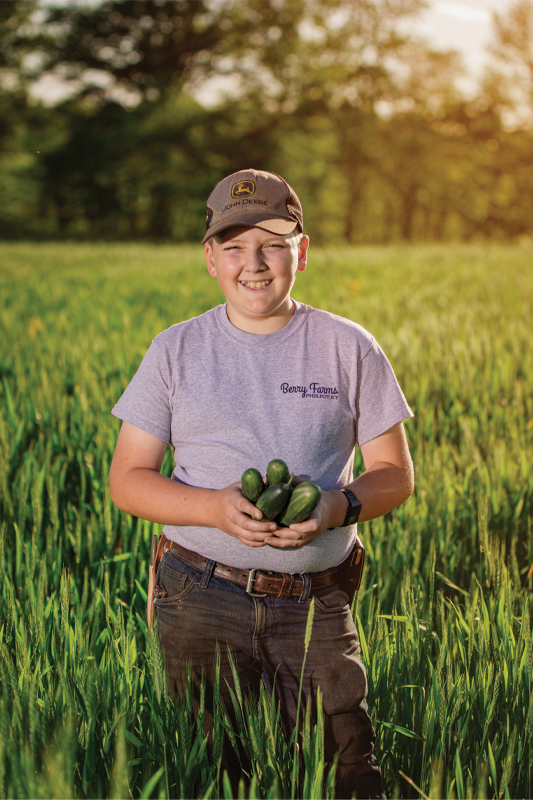 "We only needed one this year for tobacco plants," Jonathan's mom, Ellen, said. "The space was there and he'd (Jonathan) go out and plant a few seeds—that's what I thought. We loaned him money essentially to get started in his operation. That's how the garden plant and fresh produce got started."
Jonathan created order forms to take to school for his teachers and now has his own "selling room" and a produce stand at the end of his driveway with a sign reading, "Jonathan's Garden Plants and Fresh Produce."
"Last year, we did some sweet corn," Jonathan said. "I thought I'd try it again this year—that turned into tomatoes and peppers and I have a business now."
This year, Jonathan is growing a variety of vegetables including sweet corn, peppers, broccoli, cauliflower, cabbage, brussels sprout, head lettuce, cucumbers, squash and okra, along with 16 different varieties of tomato plants. He also hopes to grow watermelon and cantaloupe. 
When asked how he was able to manage being a full-time student and part-time farmer, Jonathan said, "My produce stand is run on the honor system. Mom or Dad are around normally, if I'm at school. They water plants and stuff for me because they have to be watered four times a day."
Even though Jonathan understands that going to school is his primary responsibility, he admittedly prefers to be working in his greenhouse or on the family farm to being in a classroom. 
"He's not big on school—he'd rather farm," Ellen said. "He did not understand from very little why he had to go to school. He would say, 'My dad can teach me everything I need to know.'"
His parents both agree that the farming business has allowed Jonathan to not only get a real-world education, but also be able to apply real-world math skills such as maintaining a receipt book and calculating the amount of seed he will need for the amount of area he has for planting.
"He had to figure out how much a pallet of dirt cost," Ellen said. "He had to figure up how much dirt cost per plant and how much seed cost. He bought professional tags and had to figure up the price for how much he could sell each thing for…I think dealing with people has been a good experience also."
While Jonathan may appear to be a resourceful businessman, there was a time when Ellen and Curtis were concerned that Jonathan may not be able to reach all of the necessary stages of mental and physical development.
After entering the world at just 33 weeks gestation, Jonathan spent two weeks in the Neonatal Intensive Care Unit (NICU) before doctors discovered a hemorrhage on an ultrasound and diagnosed him with hydrocephalus. The condition, which is associated with a build up of fluid (blood) around the brain, caused his head to grow much faster than his body. At just three months old, Jonathan had a shunt placed in his brain to help drain the excess fluid and relieve the pressure.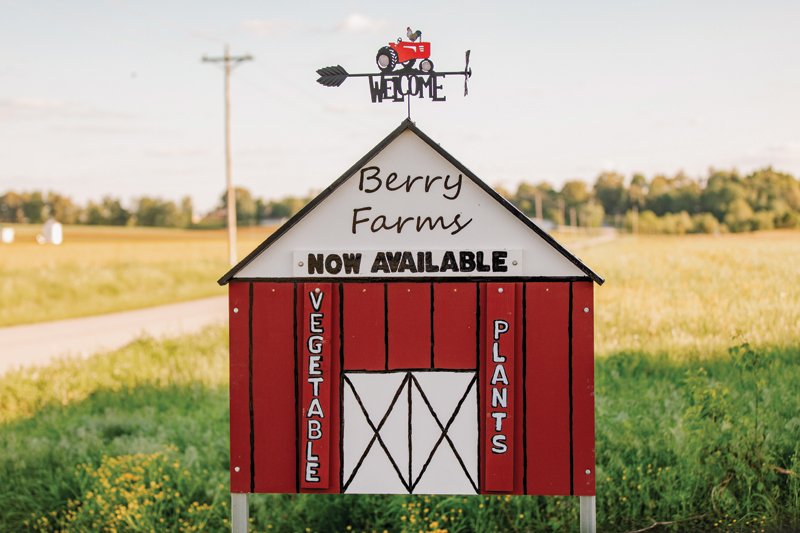 Despite being told to set their sights low as far as what Jonathan would be able to achieve, the Berry family sought out developmental resources including First Steps and Head Start, and put their faith in God that Jonathan would thrive and succeed. Ellen said, although Jonathan did experience developmental delays, he eventually achieved every milestone.
"He was delayed in sitting up because he had to grow into his head. He would climb, but was delayed in walking," she said. "By the time it came to sorting and colors he was jumping through hoops. When they (First Steps) came out to evaluate him to phase out and go to preschool, they said, 'You do realize he's a miracle—kids don't do this well.'"
Curtis and Ellen said they have been intentional about including all three of their older girls, as well as Jonathan, in the day-to-day operations of farming and consider it a blessing to be able to share these experiences as a family.
"You want your kids to do what they were called to do because that's where they're going to be the most joyful and productive," Ellen said. "While we are thrilled he enjoys farming, if he decided at some point this wasn't what the Lord was calling him to do, we would support him."
In Curtis' opinion, Jonathan is not the only one who has learned from this experience.
"You never get too old to learn something new," Curtis said. "It's been a good education for all of us."
When asked what advice he had for those wanting to start their own farming business, Jonathan said with a giggle, "Don't start planting stuff in January. I did that with the tomatoes and they were just really big."
If you are interested in ordering some of Jonathan's plants and produce, you can fill out an order form by email at [email protected] or stop by the greenhouse on Pleasant Point road in Philpot.