Photos by Jamie Alexander
Water Bombs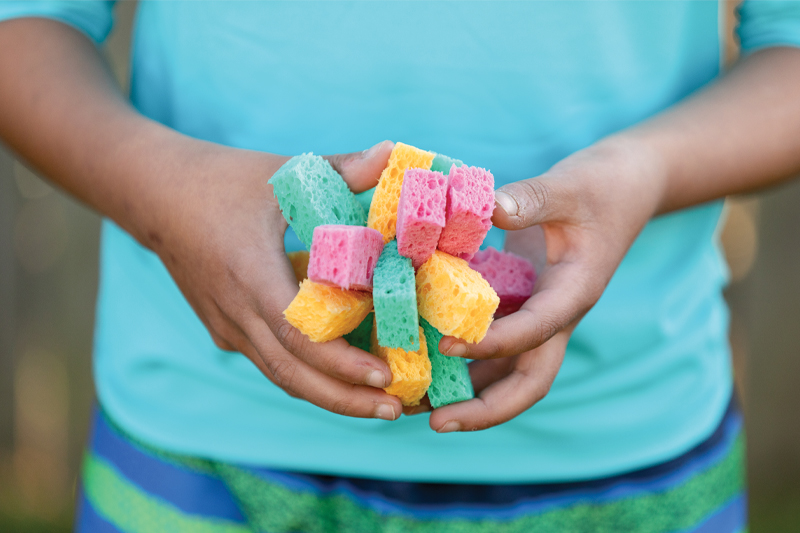 If your kids are like mine, they love water balloons… but, if you are like me, you hate the time it takes to fill the balloons, the expense of the fancy self-tying balloons, the clean up after and that all the fun is short-lived.
This is the solution you have been looking for! These DIY water bombs are made of sponges and can be reused over and over—no mess and the fun can last all day! And they are made of dollar store sponges, so they are super affordable!
Cut sponges into three even strips. Overlap nine strips in different directions and secure with a rubber band. It's as simple as that! (Tip: try to grab as many sponge colors as you can find for fun combinations.)
DIY Ice Chalk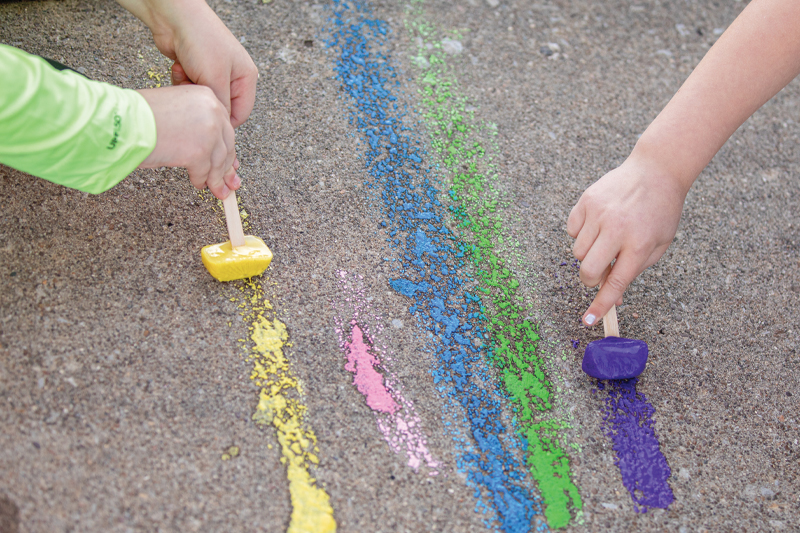 This is a great activity for a hot summer day! Kids love drawing on the sidewalk with chalk—why not turn the chalk into paintsicles for a cool afternoon of fun?!
Supplies: 
›› ice cube tray—pick up one at the dollar store
›› craft sticks
›› grater
›› freezer
›› 1 piece sidewalk chalk
›› 2 tbsp cornstarch
›› 4 tbsp water
Instructions
›› Start by grating a sidewalk chalk piece into a measuring cup that pours. Use a small grater if you can so that you can grate directly into the cup. If you don't have a small grater, then grate into a larger bowl and then transfer to a pouring cup. We used about half a sidewalk chalk piece per color.
›› Add 2 tablespoons of cornstarch into the measuring cup.
›› Add 4 tablespoons of water. 
›› Mix with a fork or whisk and pour the mixture into the ice cube tray.
›› Repeat for each color you'd like to make. Double or triple the recipe to make a larger batch. This recipe will fill 2-3 ice cubes.
›› Add mini craft sticks into the ice cube trays. You can lean them to one side to keep them standing up.
›› Freeze.
›› Once frozen, let the ice cube tray sit out for a few minutes so that you can easily pull the paintsicles out.