Photos by Jamie Alexander
Hot chocolate bombs have become a very popular Christmas tradition, but the fun can continue on to other holidays as well! These Valentine's Day and St. Patrick's Day versions are a huge hit with kids. They will love filling each hot chocolate bomb with whatever creative ingredients they want! Place the chocolate bomb into a mug, then pour hot milk on top and watch them burst, releasing the chocolate powder and other goodies from inside. Then stir and enjoy!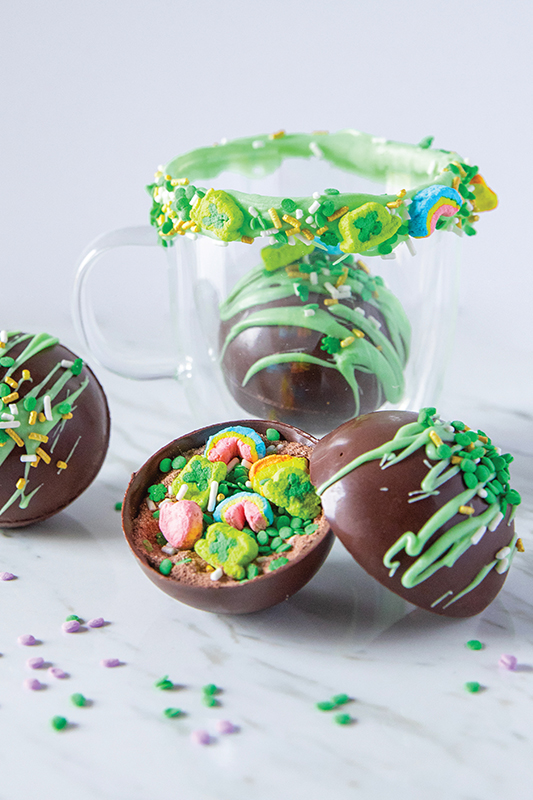 INGREDIENTS:
›› 12-16oz. chocolate melting wafers
›› 6 oz. candy melts (for a decorative chocolate drizzle on top – you can also use white chocolate and food coloring!)
›› 1 box hot cocoa mix (pick your favorite flavor! For Valentine's Day, I chose strawberry powder)
›› Decorative extras for inside (mini marshmallows, festive sprinkles, Lucky Charms marshmallows, etc!)
INSTRUCTIONS:
›› In a microwave-safe bowl, melt the chocolate wafers in 30-second intervals stirring between each until completely melted.
›› Pour the melted chocolate in even portions into the silicone molds. We are not filling the mold completely, just coating an even layer over the entire shape. Use the back of a spoon to evenly spread the chocolate up the sides of the mold until the whole thing is covered. 
›› Place the molds in the freezer for 20 minutes to set.
›› While the chocolate is setting, prepare a workstation of all the fillings. You'll need to work quickly while making these. For Valentine's Day, I used strawberry powder for the drink, mini marshmallows, heart sprinkles and white chocolate for the mold. For St. Patrick's Day, I used milk chocolate hot cocoa mix, Lucky Charms marshmallows, clover sprinkles, and dark chocolate for the mold.
›› Once the molds are set, microwave a ceramic plate until hot. Make sure to use an oven mitt or protection while taking it out of the microwave! You can also heat a cast iron skillet instead. 
›› Carefully take the chocolate bomb halves out of their molds, and melt the edges of one of half by pressing against the hot plate, evening it out so that the edge is flat. Fill that half with your drink powder and toppings, before heating another empty half on the hot plate and pressing the two halves together to seal them. 
›› Drizzle the tops with colored milk chocolate or candy melts, and add extra sprinkles to decorate!