Here's to (hopefully!) be in the clear from winter snow storm alerts! As we approach the warmer months of summer, our crew is itching to get out of the house and spend the longer summer days outside. With all Owensboro has to offer, it's easy to overlook some of the great spots unique to our community for family fun. Today I'm rounding up five of our favorite Owensboro-only outlets for making the most of your summer together!
Trunnell's Farm Market
We absolutely love taking our little ones out to Trunnell's! It's always at the top of our list in the fall when we're picking pumpkins, but just as exciting in the summer.Their Family Fun-Acre, Animal Barnyard various play areas make for the perfect day with our little ones. The picnic area makes it easy to snack between visiting each of the onsite stops and is a great excuse to pick up some fresh salsa or sweet treats in the store.
Visit the Parks
We're super fortunate to have amazing parks here in Owensboro. Our kiddos tucker themselves out after sprinting around Smothers Park. While we're up for a visit all year, summertime is especially exciting because they can't resist running through the water area. The same can be said for Legion Park and their spray park! We love picking up lunch and heading over here for a picnic. All of the trees in the park are a major bonus for extra shade, especially in the water area.
Western Kentucky Botanical Garden
After being cooped up all winter long, we have an extra special appreciation for the beautiful blooms at the Botanical Garden. Their Garden Buds program is a great way to introduce your little ones to nature lessons, crafts and more. We make family trips to the garden throughout the season but really love the views here of sunsets in the summer. Bring your whole crew for a visit or stop by for their 1st Weekend Wonders to volunteer and get your hands dirty!
Friday After 5
Food trucks, balloon animals and a variety of family-friendly entertainment make for one of our favorite events in Owensboro. Our little ones can't resist running through Smothers Park and then cooling down in their stroller with a slushy or ice cream. We always make a point to try different snacks when visiting!
It seems like a new food truck pops up each weekend, along with new local vendors. Keep your eyes peeled, we saw quite a few attendees dressed up in some of our favorite character costumes, too!
Arts and Music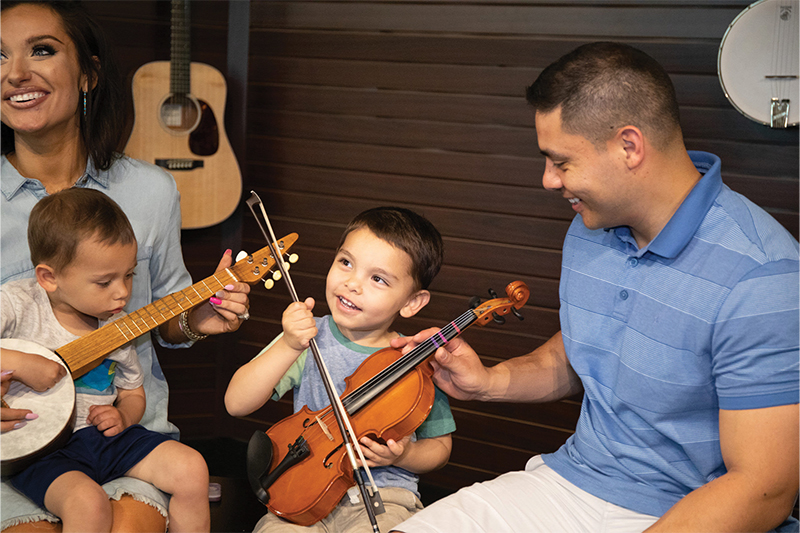 If you have an appreciation for the arts, this one is for you! The Owensboro Museum of Fine Art has an interactive, educational arts camp with a variety of visual arts projects and sessions. The Bluegrass Museum also features an assortment of programs allowing students as young as 8 to explore the wonderful world of Bluegrass. If you're not looking to enroll in a program, both facilities are great destinations to beat the heat and take a tour.
Keep in mind, these are just a handful of the Owensboro attractions you can dive into this summer! From festivals to air shows and everything in between, there is something sure to entertain your crew. Stay in the loop with all of the upcoming events being added to the calendar on the Visit Owensboro website!