Owensboro Parent is always on the lookout for stories of local kids doing amazing things. So when we heard there was a Daviess County High School student starting his own business as a first-generation farmer, we had to meet him!
With threatening gray clouds on the horizon from a strong east wind, I pull into a gravel driveway at the eastern edge of Daviess County to join 18-year-old farmer Isaac Carmon as he is about to feed his 28 head of cattle, tag the two calves that were just born this morning, and check on the rest of the herd before the rain comes. Hopefully.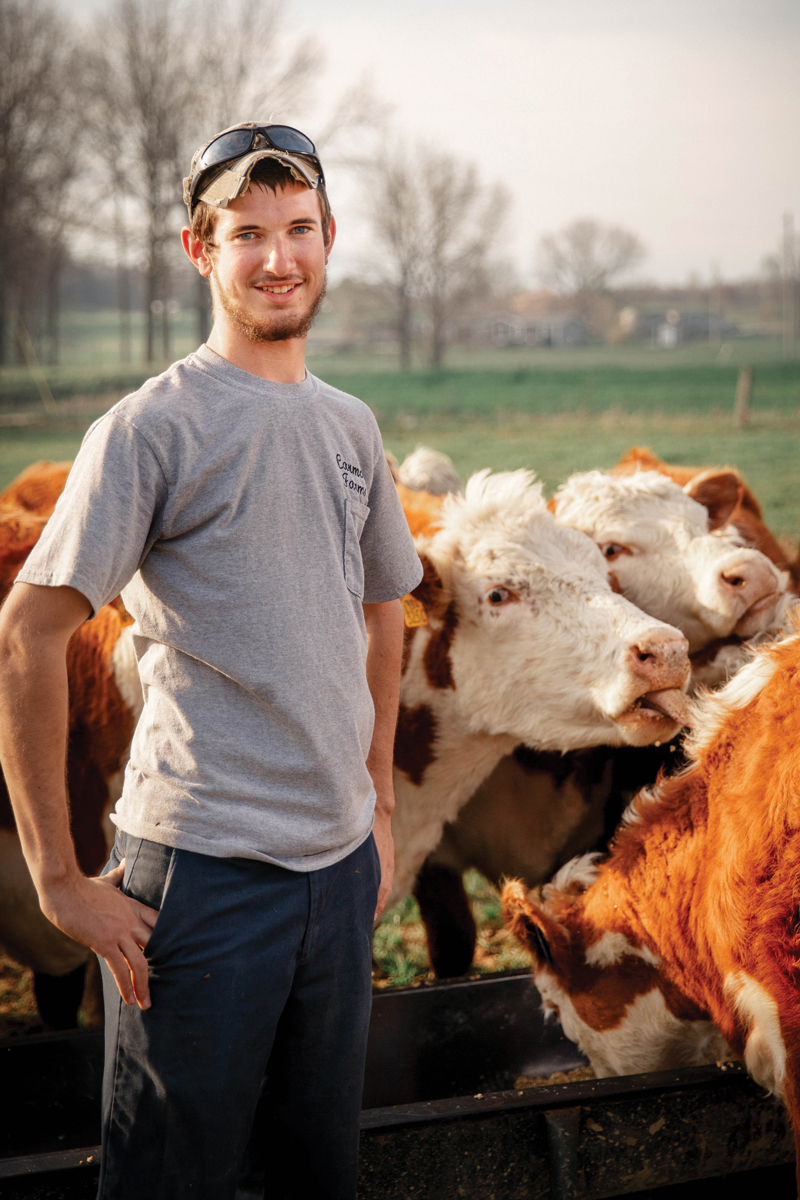 "This may be a little muddy," he says, ear tagger in hand, as we walk across the field to the back pasture where the hours-old calves are standing amongst their mommas. "I noticed them this morning but haven't got a chance to get back here yet."
That's because Isaac is still in school; a senior at Daviess County High School where he's taking dual-credit classes through Owensboro Community & Technical College on pace to graduate with an associate's degree in agriculture in another year. Now in his last semester of high school, he only has classes at OCTC on Tuesdays and Thursdays so he can work Monday, Wednesday, Friday.
We scheduled this interview as soon as Isaac could get to the farm after school, around 4 p.m. Carmon approaches the first calf slowly under the watchful eye of the momma cow, a brown and white Hereford. Herefords are docile, I learn later. They're good with people and easier to work with than other breeds.
In one smooth and calculated motion, Isaac scoops the calf up with both arms, gently lowers it onto the ground, and attaches the ear tag with the clamping tool. It never makes a sound. "I don't want to let it up too fast," Isaac says, lifting the calf to find its footing while still supporting it with one hand on its back and one hand under the ribcage. "If it gets spooked, it might take off running and never stop."
This first calf is a heifer. The ear tag reads "S" for spring, and "220" to match the momma's tag number, followed by a "3" because it's the third calf of the year. After repeating the entire process with the second calf, he checks to find that one is a baby bull.
This all seems second nature to Carmon because he already has 10 years experience raising cattle. Isaac got his start by purchasing his first calf through the 4H FFA feeder calf program as an 8 year-old boy and he's been buying and selling cattle ever since. Before he was old enough to work, he volunteered on other farms and because he was good help they kept calling him. In high school he worked for Hayden Farms, then Moore Farms.
Isaac's mom, Amy, says like most boys, Isaac went through a John Deere tractor phase at 2 or 3 years old when he got a toy tractor for Christmas. He just never grew out of it. "Now my toys are bigger, and a whole lot more expensive," he laughs. Like two diesel trucks, a small cattle trailer, and an enclosed trailer to haul gear and tools. All paid for.
"He's always been good with money," Amy says. "Any time he makes a sale, he puts some back. He did all this himself. We're not farmers. All we have is the acreage. He started all this."
By "this," she means 28 head of cattle spread across 17 acres of land the Carmons let Isaac turn into pasture and an adjacent 16 acres he leased from his uncle last year. There's also 27 acres Isaac just bought at another location so he can rotate pastures.
"That way I can take the cattle over there to eat up the growth while these fields grow back up." It's better for the cows – and the land – that way.
Sloshing back across the field to the front lot, Isaac tells me how he started his farming operation in the Spring of 2016, when bought his first four bred heifers to start his herd. In the two years since he's sold those calves and bought more to "keep on working the cycle" with a spring calving season and fall calving season to provide a steady income stream. He added four more feeder calves in the fall of '16, three more bred heifers in the spring of '17, followed by three open heifers in the fall of '17.
There are 12 cows in production now. One delivered in December, two dropped calves this morning, a fourth should deliver in the next week. He still has to preg-check and vaccinate the remaining eight pregnant cows this spring since he does his own veterinary work. Those eight should drop their calves in late September or early October and the cycle continues.
The trick is to increase pasture land while increasing the herd. His next project is clearing another 60 acres for pasture ground so he can build his herd up to about 50 in a few more years. By then he should be able to farm full-time. Long term, he wants to add some chicken houses and says his goal is to eventually purchase enough land to put all his cattle and chicken houses in one place.
Next, we start filling buckets to do feeding rounds. The feed is a pellet mixture, 1/3 corn gluten and 2/3 soybean hulls, bought from Southern States on Carter Road. Each bucket weighs 30 pounds. Isaac grabs four, two in each hand. "This is my workout," he laughs. "I don't have to worry about going to the gym."
He carries the four buckets to the front pen, where 12 cows are waiting to be sold in May. That will be a big paycheck, most of which will be subdivided for land payments, more livestock, and more equipment. The rest will be tucked away for anything else that comes up.
From the sale in May, Isaac plans to "even out the herd" by buying four or five open heifers to be bred with his bull so they will drop calves next spring. Four new cows means he can have eight bred cows in one pasture and eight in the other.
As Isaac sets the buckets down outside the fence, the cows inside start moo-ing and walking toward the trough. They know it's supper time. While Isaac dumps two buckets in each trough, Amy Carmon says she's pretty proud of her boy for what he's done. "There's not a lot of 18-year-olds that can say they've started their own business. And to see the work ethic he has and all the time and effort that he has put in to this… he's an inspiration to me, honestly. He's known what he wanted to do since he was 3. The 4H program got him connected with the right people and he took it from there."
She tells a story about Isaac getting up early at 9 years old to feed his 4H feeder calf to show at the fair. She says he's talked about wanting to be a farmer his whole life and his drive has never wavered.
Back outside the fence, Isaac appreciates the vote of confidence, but is quick to acknowledge the help he's received along the way. "I wouldn't be able to have any of this if it wasn't for the support of my family and the other local farmers who have helped me get started. The farming community around here is incredible. Excellent people."
The grin on his face tells you he loves what he does. He loves working outside, watching the animals grow, seeing the result of the work of his hands.
And he loves the fact that what he learns in class today he might apply tomorrow. Like checking soil levels and knowing when to increase nitrogen or phosphorus to make healthier grass for the cows. What he can't learn from a book, he learns from working with otherfarmers. Like how to guide the cows when you're loading them onto a trailer. "You can't really learn technique from a book. That has to come from being with the animals."
We shake hands and he thanks me for the help, even though I did nothing but walk along and ask him questions for the last hour. Then as I climb in my truck to head back to town, Isaac walks back to the barn for another four buckets and waves one last time, still grinning ear to ear.