"Whether it was finishing opposing teams off as the enforcer of The Shield or steadily grinding his way toward the WWE World Heavyweight Championship as a solo competitor, [Roman] Reigns has made a lasting impression on anyone who's come into contact with him." The second half of this statement from World Wrestling Entertainment, Inc. certainly holds true for 16-year-old Joshua Swain of Drakesboro, Kentucky.  Thanks to social worker Emily Diaz, Joshua's dream of meeting the current WWE US Heavyweight Champion came true at the Ford Center in Evansville on September 17.
For seven years — or as Joshua explains, "a pretty good while"– he and his family have been watching weekly WWE fights on television.  "They're fun," he says. "I get to stay up late and watch people beat up on each other."  His mother, Ashley Wilson gives a good-hearted laugh and agrees that these weekly sessions are priceless to her husband, Chris, and their three daughters and two sons.
Like Roman Reigns, Joshua Swain is no stranger to pain.  At age 8, he was diagnosed with mucopolysaccharidoses, a genetic condition which prohibits the body from creating the enzymes needed to "break down and recycle materials in cells."  According to the National MPS Society, this "results in progressive damage to the heart, bones, joints, respiratory system and central nervous system." Throughout his childhood, the pain was so severe despite over-the-counter medications that Joshua mostly laid on the couch and had to be carried from place to place.  This past August, his prognosis worsened and his family and his physician, Dr. Billie Galyen, began working with Hospice of Western Kentucky.
Ashley was hesitant at first, she explains, because of the stigma of hospice.  But after working with the staff these past couple of months, she now testifies that hospice is not something to fear.  "It's about living," she says.  Hospice of Western Kentucky is located in Owensboro, and has provided home-based and nursing home care in Daviess, Hancock, Hopkins, and Muhlenberg counties since 1978.
With hospice's help, Joshua now has a mobile wheelchair that makes it easier for him to attend school.  His pain is being managed, and lately he has been going outside on his own every day.  He and his hospice spiritual worker, Mark Poiles, have been building a shed in the backyard which Joshua and his dad have stocked with tools and odds and ends.  "Like any typical boy," Ashley says, "Joshua enjoys taking things apart and putting them back together."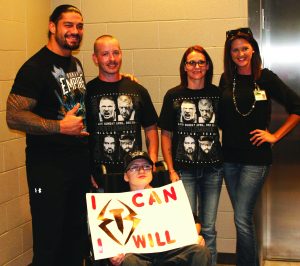 Since the first time Joshua talked to social worker Emily Diaz about his love of professional wrestling, she wanted him to be able to attend a live WWE match.  With her persistence in contacting World Wrestling Entertainment, Inc. and the support of Hospice of Western Kentucky's WISH Program, Joshua's dream came true when Roman Reigns came to the Ford Center along with 2015 Superstar of the Year Seth Rollins, Smack Down Women's Champion Becky Lynch, and Rag Tag Team Champions New Day. Thinking back to that night, Joshua hums and sways to the WWE theme song "What's Up" by the Golden Truth.
It's no doubt that Roman Reigns is Joshua's idol, and for good reason.  Before the show, Reigns and Joshua spent about twenty minutes "chatting like a couple of old friends," remarks Emily.  Reigns also autographed a hat, a shirt, and medallions for Joshua.  But there was one more thing Joshua wanted – for Roman Reigns to win the belt for him that night.  And Reigns did, giving a shout-out to Joshua from the ring afterwards.  Everyone in the stadium stood and cheered.  "I was at the point of tears," Ashley reminisces.
The Hospice of Western Kentucky's WISH Program was created in 2008 in order to "grant the final wishes of patients when possible," explains Public Relations Director Angela Mayfield.  "Hospice patients have a diagnosis of 6 months or less if their disease runs its normal course."  Funding comes from community and business donations and the support of individuals.  Along with WWE celebrities John Cena and Charlotte and Sasha Banks, Roman Reigns also supports the Make-a-Wish foundation headquartered in Phoenix to soften his tough-guy persona.
31-year-old Roman Reigns hasn't had it easy in the WWE circuit.  Before becoming a professional wrestler, Joe Anoa'i played college football for Georgia Tech, had a short stint in the NFL in 2007 with the Minnesota Vikings and the Jacksonville Jaguars, and then played Canadian professional football for the Edmonton Eskimos in 2008. Anoa'i joined the WWE in 2010 under the name Roman Leakee and toured as part of the Florida Championship Wrestling circuit, which would eventually become known as NXT.  Reigns is often met by harsh criticism from WWE fans, including a booing audience at the Ford Center that night.   While chasing the 2015 world title, WWE touted Reigns as the "Hard-luck underdog."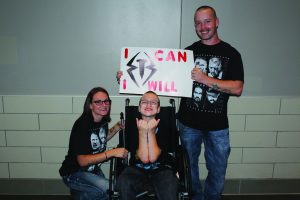 Although one might consider Joshua Swain an underdog, too, you would never know it from his attitude.  Emily describes Joshua as determined, outspoken, and brave.  During a "rough patch" with his lungs in February 2015, rather than feeling sorry for himself, Joshua begged his mother to set up a Facebook page for him to ask people for prayers.  Within the first week, "Prayers for Joshy" gained over 300 followers.  The site chronicles a boy who faces his challenges head-on (including the 100-yard dash this past May) and who loves to fish and ride his go-cart.  Of course, his profile picture shows him posing with Roman Reigns, his mom and dad, and Emily, holding a sign with his hero's motto:  "I can. I will."
If anyone can keep wrestling mucopolysaccaridoses, it is Joshua Swain because he has plenty of people in his corner of the ring.  "Joshua is a fighter," Emily says, "and we're very appreciative to be alongside him in this match. We [at Hospice of Western Kentucky] consider it a privilege to support him, his family and our community during this journey."