Photos by Jamie Alexander
At our family Christmas gathering, where we have 11 kids under the age of 12, we have opted not to do Christmas gifts. Instead, we focus on the kids — I mean they outnumber the adults by far anyway — and give them fun holiday activities to do that night. We have done holiday themed minute-to-win-it games and crafts. Last year we made this DIY ornament bar for them and it was a huge hit with the all of the kids. 
I found clear plastic ornaments in the Dollar Spot at Target along with lots of small craft supplies that would fit inside of them. Other than that, I found simple things around the house or in our craft supplies that would be cute in the ornament. You can stick with a red and green theme or all colors. Here are some supply ideas you could use: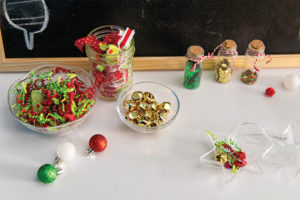 ›› paper shred
›› pieces of fabric
›› bells
›› pom poms
›› glitter
›› ribbon
›› sequins
The whole project was so simple and a crowd pleaser. The bigger kids loved making something to fit their style and the younger kids just loved crafting. It was relatively inexpensive and the only set up was opening the packages of supplies. 
At your family gathering this year, think more about presence and less about presents. Kids love making things and spending time together. They don't need the latest toy to make their holiday happy… just quality time spent with their family!