Read all about the talented 11-year-old who is publishing her own newspaper
Photos by Jamie Alexander
An ambitious Owensboro native has her sights set on success as a journalist. Eleven-year-old Audrey Neel has various interests and hobbies, but her newspaper, the "Owensboro Kids Chronicle" is likely her most treasured endeavor yet. 
"She's always been a curious kid," Audrey's father Adam Neel said. "She's fascinated by so many things, and she loves to ask questions. I think her newspaper is somewhat of an outlet for her." 
Audrey is the founder, editor, and primary writer behind the Owensboro Kids Chronicle, which published its first issue in October 2021, and has been coming out monthly ever since. The paper has sections dedicated to entertainment, nature, art, current events and more.
Audrey has since entrusted her close friends to serve as writers and reporters. Driven by her own quest to find answers and express herself, Audrey is constantly working to evolve and make her publication bigger and better for readers. 
"Audrey is always looking for new material," Adam said. "Every month she asks her mother and I for ideas, sometimes she likes our input, sometimes she doesn't. She's developed her own writing style as her mother teaches her."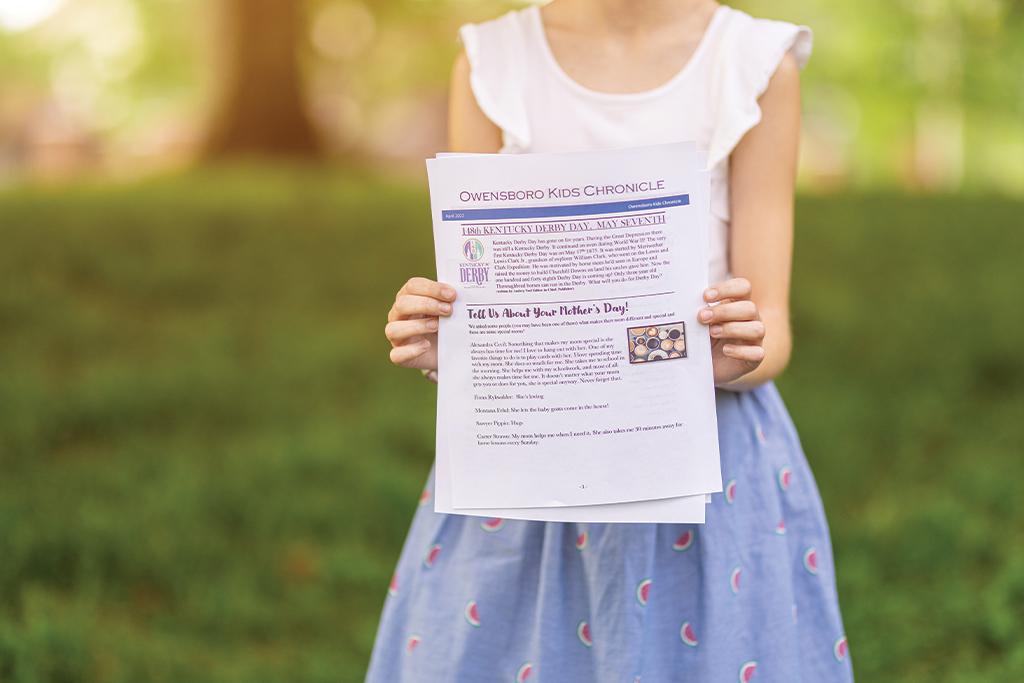 Content contributions come from neighbors, family, and friends. Jokes often are shared from a fellow church member. Audrey leaves no stone unturned when looking for potential front page features. Her parents commend her efforts to include others. One of her most ambitious and admirable traits is her desire to be different and authentic. 
"What's so interesting about Audrey is that we've always known how intelligent she is," Adam said. "It's exciting to see her develop gifts and talents on her own. She is unique, she's her own individual." 
Audrey has been featured on various news outlets including national news syndicated broadcasts affiliated with ABC. She was featured on the Drew Barrymore Show on May 14th. There's even mention of a potential book project in the near future. 
"This is totally her thing. This is uniquely her, it's hers," Adam said. "She has come into her own. It's impressive. She's a gifted writer and artist. We're just really thankful. We take it as it comes." 
When Audrey isn't busy publishing her monthly newspaper she is an avid painter, having painted portraits for family and friends. She also enjoys horseback riding and cooking with her grandmother. 
Authentic and gracious, Audrey says that journalism "might be fun" as a career. Given the talents she shares with others at such a young age, one can only hope she may consider writing as a grown up in the years to come.