Photos by Jamie Alexander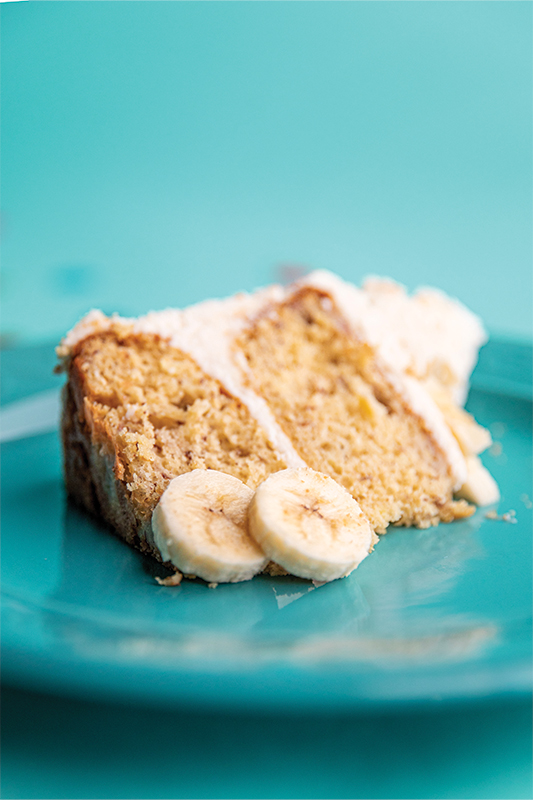 Cake: 
›› 1 box yellow cake mix
›› 1 teaspoon baking soda
›› 1/4 teaspoon cinnamon
›› 1/4 teaspoon nutmeg
›› 1 teaspoon vanilla
›› Water, oil and eggs per directions on box
›› 3 large over-ripe bananas mashed
Cinnamon Cream Cheese Frosting
›› 2 sticks butter (I use salted butter)
›› 1 2lb bag of powdered sugar
›› 1/2 block of cream cheese
›› 1 teaspoon of vanilla
›› 1/4 teaspoon of cinnamon
›› 1/4 cup of water (may need a little more depending on the thickness of frosting)
Instructions:
›› Preheat oven to 350 degrees. Grease 2 (8″ round pans) or a 9 x 13 pan.
›› In large bowl whisk together dry box mix, baking soda, cinnamon, nutmeg. Add water, oil, vanilla and eggs as directed on box and add in vanilla. Beat on medium speed until well blended. Stir in mashed bananas.
›› Bake for 25-30 minutes (8″ round pans) or 30-40 minutes (9 x 13 pan) or until toothpick inserted in the center comes out clean. Cool completely. 
›› In medium bowl using mixer, cream butter and cream cheese. Beat in vanilla extract and cinnamon. Beat in powdered sugar about 1 cup at a time. Slowly add water as needed to thin out frosting to a spreadable consistency. 
›› Make sure cakes are completely cooled. Spread over 8″ cake and then top with the other 8″ cake. Frost top and sides of cake. If using 9 x 13 pan, frost in the pan.
›› Store cake in refrigerator.