by Sasha Foster, 4th grade // Illustration by Katye Clark, 7th grade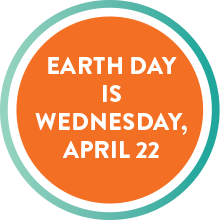 Lots of people think Earth Day is not important, but it's actually a big deal. In fact, it's a really big deal! Earth Day is the day where people need to be kind to our planet.
Earth Day can be any day, as long as you are doing something good for our planet. Some examples are like picking up trash on the ground, not throwing trash on the ground, and recycling things like water bottles and paper. On Earth Day, go out to a park and look for trash if you want to do a good deed. Or do this on any day, just to be recognized as a good person!
We don't want our planet to look like trash! We want out planet to look green and good as new! Saving our planet also includes saving the ocean. Throwing trash in a lake or in a river can have a big impact on the animal kingdom. Throwing plastic items in the ocean can kill sea animals, yes, including turtles. Turtles and other sea creatures are important for our planet.
Trees are also a big thing. On Earth Day, try not to cut down a lot of trees, because trees give out an important need called oxygen, also known as air. You can't live without oxygen, so you can't live without trees! Trees are also made of wood, so trees also produce paper. If you don't cut down trees, our community can save paper! And have oxygen to breathe!
As you can see, we need to save our planet for lots of reasons. When you do something for our planet, you'll feel good about it afterwards! So make sure you do something to help our planet on Earth Day!
Earth Day
Bucket List
by Ava Settles, 6th grade
1. Turn the lights off when you leave a room.
2. Recycle.
3. Use both sides of the paper.
4. Use a reusable bag instead of a plastic bag.
5. Turn off your computer or laptop.
6. Turn off the water when you are brushing your teeth.
7. Pick up trash at a park near you.
8. Plant a tree.
9. Ride your bike instead of riding in a car.
10. Take shorter showers.