Before Bella Braden was born, her mother was informed that Bella had a kidney that was not developing properly. At just seven months old, Bella was sent to Kosair Children's Hospital to have her kidney removed. Eight years later, Bella is a happy, healthy young girl, as well as a well-traveled classic car owner and enthusiast.
"Since she was little she has always been excited about going to car shows and interacting with the people," said her mother, Brandy Magan. Brandy's father and Bella's grandfather, Keith Magan, said he has been fixing up and driving various cars his entire life. He rescued and restored a 1924 Custer electric vehicle when Bella was just 3 years old.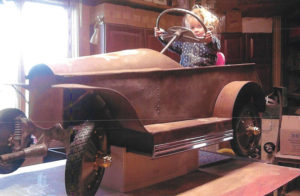 "It is small, but it was street legal in 1924," Keith said of the car which was one of several manufactured from 1920-1965 in Dayton, Ohio by Custer Car Specialty Company. Because of its size, Keith said his granddaughter claimed the car as hers and would consistently check on its progress each weekend.
"She thought she was going to be too big to drive it before I got it done," Keith said. "That was pretty good motivation [to get it finished]."
Bella has been participating in car shows for the past five years and drove the Custer to a show for the first time three years ago. She has 33 trophies to show for her efforts and, according to her grandfather, is "a car show kid."
"She'd rather go to the car show than do just about anything — always has," Keith said. "She asks to go to one just about every weekend. I'm just glad she got tall enough that I don't have to pick her up to look in all the cars anymore."
During the Saturday night cruise-in in downtown Owensboro on Sept. 7, Sunset Cruisers President Joe Anderson arranged for Bella to be the guest of honor. "She is a fixture," Anderson said. "A lot of people know her and recognize her."
Anderson has been so taken by Bella's passion for classic cars that he often jokes that she is the only person to ever walk up to him at the McDonald's playground and say she couldn't wait until the Cruise-In season started.
As for her special night, the streets were cleared for her and her Custer to cruise down before she was presented with a special gift and signed card as a token of appreciation from Sunset Cruiser club members.
"She was just excited about the whole thing," Brandy said. "She has been going to the car shows for so long — it was a big night for her."