When Brent and Jamie Elder saw a house come on the market in Hancock County that was near family, they jumped on the chance to move in 2017. They lived in Owensboro and this move would allow them to not only be close to Brent's family, but also raise their son Tennyson, now 4 years old, in Hancock County, which is where they both grew up. Jamie is a registered nurse with Owensboro Health Medical Group Maternal Fetal Medicine under Dr. Tabb, and Brent is a supervisor at Aleris.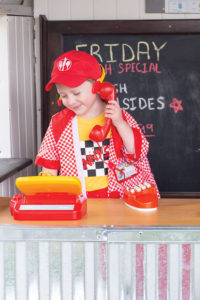 Their new home in Hancock County had two sheds in the backyard, one of which was going to need some work if they were going to continue to use it. The Elders decided to tear it down. But Jamie said they had just visited The Children's Museum of Indianapolis and they had some pretty cool play places for kids that Tennyson—who they call Tenny—loved. One in particular, an ice cream parlor, was Tenny's favorite.
"Brent got the idea that instead of just tearing down the old shed, we could tear down the bad wood and turn the rest of it into a playhouse for Tenny," Jamie said. "Tenny liked to pretend to serve us food in the house and we had a ton of play food so Brent decided to give the playhouse a diner theme."
Transforming the old shed into "Tenny's Diner" only took a couple of days less than $200, Jamie said. Most of the materials were scraps from other projects.
"Brent was the creative mind behind it, but his dad was probably more of the carpenter," Jamie said.
Tenny's Diner has a built-in booth to sit at plus an additional table, which Brent upcycled from an old Lego table. Features like the counter, complete with a cash register, phone, and quarter machine give Tenny plenty with which to pretend. Kitchen details like the chalkboard menu and tons of play food and dishes give countless menu options. And the entire converted shed is pulled together with a 50s diner feel—a white and black checker floor and stools and a bar for outdoor seating.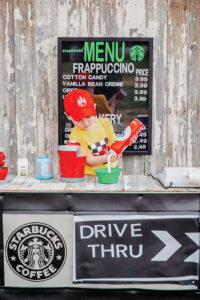 About a year after the diner, came the Starbucks. Brent used an old swing set for the frame of the coffee shop structure. And the rest came from scraps of other projects.
"We were going through a Starbucks kick at the time," Jamie said. "Tenny loves the Vanilla Bean Crème Frappuccino, which he calls ice cream in a cup. So we thought he would get a kick out of having a Starbucks to go along with the diner."
Outside isn't the only place the Elders encourage their son to use his imagination. When it's rainy outside, they have Tenny Toymart in his playroom, set up like a toy store ready for his parents to shop.
"We have a little metal shopping cart and a checkout counter that Tenny will 'ding us out' at," Jamie said. "At Halloween, Brent turned the playroom into a haunted house. There is always something going on here!"