A local mom's journey from Nicaragua
to Kentucky
Listening to her story unfold, no doubt God's hand was beautifully and strategically connecting the dots from a young age until the moment she took a deep breath, prayed "God, let's do this" and walked into the immigration office. 
Miriam DeWitt was very young when a gentleman working as a missionary from Germany offered to be her mentor—which meant he would pay for all of her education from elementary school through college. That was no small offer, especially for this impoverished Nicaraguan girl, who was cleaning, cooking and caring for her siblings as well as her extended family (aunts, uncles, cousins, grandparents), several generations all living together in sparse housing—concrete floors, metal walls and showers from a bucket of water. "I have two siblings, but back home you have one house and it's about 20 people living in that same house, so I always liked to cook. I was cooking for everybody about three times a day," Miriam said. 
This man had come to visit her aunt, who was actually cooking for him and a group of other missionaries. He was there checking on a group he already mentored, but looking for a second group of kids to mentor. "I was there playing with a ball. I remember it like yesterday, and it was me and my older sister. It was not tough for me to say that I want something different," Miriam said. That encounter led to him mentoring Miriam, her sister and two other girls. "So, he said, 'You girls can have everything you need . . . but the only rule you have in here is no drugs, no drinking and no getting pregnant,' so for me and my sister, we were like OK, we'll take it," she said.  "I had someone to step into my life who wasn't my dad, but he stepped into my life like a dad, to take care of me and my sisters . . . He taught me the value of learning."
Keagan DeWitt went to Nicaragua in 2010 on a short-term Partners in Christ mission trip. Miriam was already graduated from college and had accepted an opportunity to oversee the Transition House (a branch of Partners in Christ). She was serving as a house mom for the college girls living there, mentoring and teaching them basic life skills. "I did have someone pay for my classes, so I wanted to teach this group of girls that everything we get, we do not take it for granted," she said. 
The girls, along with Miriam, were volunteering with a PIC project. Although she was busy with the girls and didn't notice him, Keagan certainly noticed her. "If I weren't dating so-in-so, I would date and marry her," Keagan told another intern from Day 1. 
Miriam did not speak English; however, Keagan spoke Spanish (3 years in high school). That communication, much prayer and many trips to Nicaragua over a 4-year span led to their marriage in 2014, which secured Miriam's first Green Card. Connect a few more dots.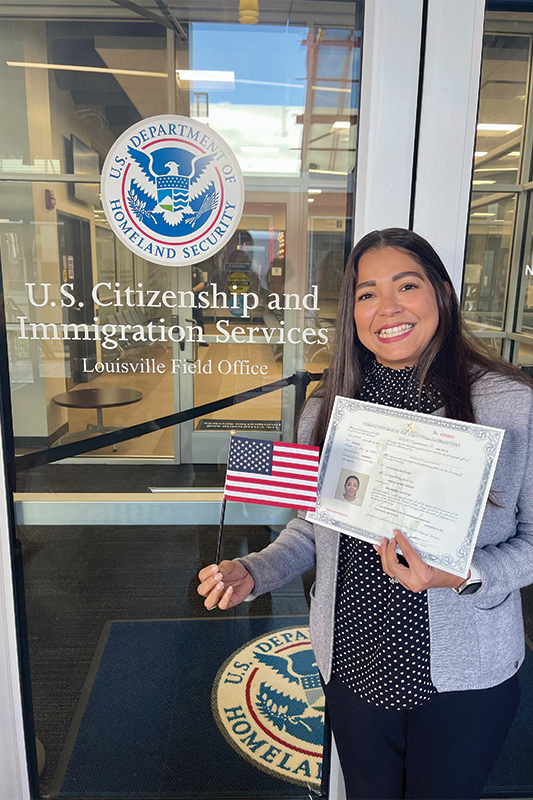 "God was in it the whole time, because of the speed of things. She had her work authorization within two months, which should have taken six months to a year. She had her Green Card a month after that, so at that point, she's good for the next three years," Keagan said.  Once that Green Card expires, you must apply for a 10-year Green Card. "We applied for that one. When we initially applied for her first Green Card, we had a stack of pictures and evidence showing it was a legitimate relationship, because they want to see dates; they want to see when you were together, marriage certificates, all the documentation. For the second Green Card, we were able to send proof that we had a house together, a kid together, so that helps speed the process. Then, you must have your Green Card for five years before applying for citizenship," Keagan said. Miriam actually waited seven years. It's an expensive process.  
She had begun working at Bullet's Pawn Shop (corner of 18th Street and J.R. Miller) after receiving her work visa and temporary Green Card. "At first, I did not think this was my calling," Miriam said. However, after a series of other bank and office jobs, she had an epiphany: The pawn shop was where she wanted to work. "I've been there for the last 3 years, and I'm not going anywhere. I love it. My boss at the store has been a blessing," Miriam said. 
Working at the pawn shop allows her to pay it forward, to help others who need advice or assistance with immigration questions or paperwork, with acquiring their Green Cards. Her boss appreciates that she can communicate with their Spanish-speaking clients, assisting them in ways other employees cannot. 
So how did Miriam develop such strong English? "My first year, I was so frustrated. I couldn't communicate," she said. Keagan pushed her to learn English, to begin communicating in full sentences, to absorb as much English as possible from multiple sources: music, television, books, others. She didn't take any classes; she immersed herself in the challenge to learn the language—and learn she did. Now, she fluently speaks both English and Spanish, in addition to sign language.
Still, she had not applied for her U.S. citizenship. "So, this is how God moves," Miriam said. A Mexican customer came into the pawn shop and wanted to talk with her. He asked her in Spanish, "Are you a citizen?" She told him she was not, but he urged her to get her papers in order. He had heard that Latinos were being pulled over by law enforcement and being sent back home. Even though he, too, is married to an American, he was almost sent back home. Granted, there could be more to his story; nonetheless, "For him to talk to me and God using him to scare me was enough," Miriam said. Immediately after that conversation, Miriam prayed: "God, if this is time for me to apply, you open doors. If not, you close those doors right now. I know you are going to provide time, money and everything—if this is your time."
Provide he did. That same day, Miriam's immigration lawyer met her after work. 
Application for citizenship costs $1,300, which they did not have. Four years earlier, when Keagan began his ministry at Owensboro Christian, Nancy and David McCollough heard Miriam's story and had offered to cover any expenses for Miriam's citizenship if she chose to apply. When she called to ask if they were still interested in helping, Nancy put the call on speaker so David could hear the conversation. "Don't worry, we will take care of it. I'll bring that check, Sunday," Nancy said. Connect more dots.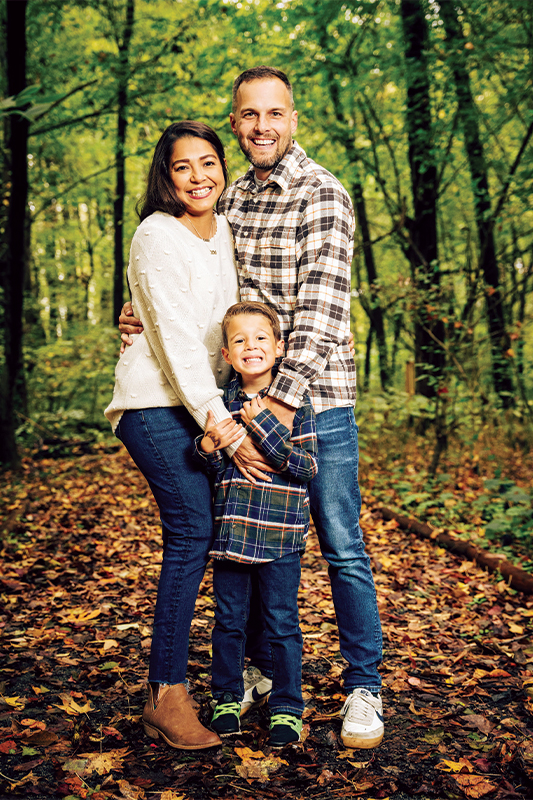 Typically, the wait for an interview would be15-18 months. One week after Miriam applied, she was scheduled for a September 24 citizenship interview, which coincidentally was their son Cruz's birthday. This was moving at light speed. Miriam had less than a month to prepare for the interview, to study 100 citizenship questions. "They actually ask 10 questions, and you have to get 7 out of the 10 correct, but you don't know the 10 you'll get out of the hundred; it's random," Keagan said.
Her lawyer was astounded that Miriam's interview was that soon; another client, a priest, had been waiting 14 months.
Her boss encouraged her to use any spare time at work to study. 
Her sister, visiting from Mexico, went to Louisville with them for Miriam's interview at the U.S. Customs and Immigrations Services. Miriam was beyond nervous. She took a walk but could not sleep that night. In her mind, she began praying as she approached the interview office. "OK, God, you have me. You have brought me here to this point. You know your job; I know my job. Let's go get it done. Since I was little, I don't know how I wasn't kidnapped or sexually abused or alcoholic or drug addict. I don't know how I didn't hit any of those points in my life," Miriam said. As she walked to her interview, all of these thoughts and prayers were swirling through her mind.
If you do not pass the interview, the whole process begins anew, including full payment for another application. 
Her sister and Keagan were not allowed to go inside with her. She arrived early and was the first one called. After 6 questions, the interviewer jumped to the next section of the process; she expected a seventh question. Miriam had gotten all the questions correct. "I started crying, and I said this is the best present. It is our son's birthday today," she said.
What started in August had come to fruition less than two months later. "I still cannot believe it happened that fast," Miriam said. The Oath of Allegiance ceremony was October 21, in Louisville. Sixty-three people from 51 different countries, including the priest who had such a lengthy wait, received their citizenship that day—yet only one from Nicaragua. 
"I am thankful for this country. It has taught me a lot. It is a lot of good things in here. I never thought that I could have my own house. I never thought I could be married to a man that would really take care of me. I am blessed. Keagan has been awesome. His family . . . since the beginning, I have called them mom and dad. I told them you have to be my mom and dad, because I do not have one here. I would not change anything I've been through for this. Nothing," Miriam said.