Photos by Jamie Alexander
Not too long ago, I searched the aisles of the local bookstore, trying to find, "Co-Parenting For Dummies." But it didn't exist. Even if it did, would it matter? Is any co-parenting situation "textbook?" The answer is obviously no. 
There isn't a single thing you can do to prepare for the challenges that come with co-parenting. And it is indeed a challenge. Usually following a break up, falling out or divorce, emotions explode. Lawyers are involved. Should it be 50/50? 80/20? Will there be child support? Alimony? It's a whirlwind of court dates and mediations. Trying to figure out what is best, sometimes at the expense of the kids.
We decided, that wouldn't be us. We never stepped foot into a courtroom. We knew that our children deserved us both at our best. Not us after depleting our bank accounts on lawyers. Not us holding on to built up frustration and resentment. We knew it would be hard at first. We knew that forgiveness and grace would be needed. 
There was a season of learning and growth. Tristan, their dad, had never done their hair. I remember recording myself doing our daughter, Asher's, hair and sending it to Tristan so that he could practice. I remember buying two sets of hair products so he would know exactly what to use. I had never played Madden on Xbox. Axton begged me to learn so that I could play him like his daddy does. Although he beats me every single time, I have taught myself to play. We learned how hard it was to keep up with clothing, sports equipment, and backpacks. The constant back and forth between houses would be impossible without constant open communication. 
We may share our time with our kids separately, but we also share our time with them together. We don't have two separate birthday parties. We have one, where all of their friends and family members come from both Mommy's and Daddy's sides. When there is snow on the ground, Tristan, my boyfriend Albiro, and I all take them sledding, along with Albiro's daughter Arianna. When it is warm, we all three take the kids to the playground, the soccer field, or to practice baseball.We don't rotate holidays. We plan our days so that both of us have time with them. 
Sports take up a lot of time in kids' lives. I have seen parents sit on separate sides of the fields, avoiding any type of communication. After the game, the child has to decide is he/she going to see mommy and her family, or daddy and his family first. In our family, we sit together. Tristan and I are a united team when it comes to cheering for our kids. Our families understand the dynamic of our co-parenting and are equally as united.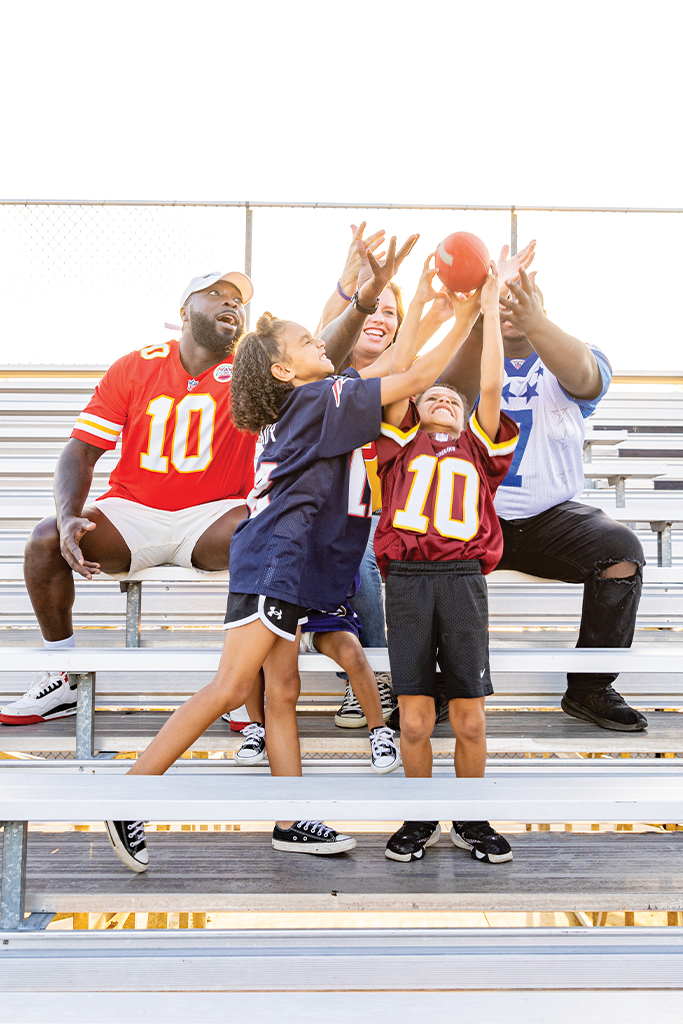 Our co-parenting over the past two years has not been perfect. We have had several moments of frustration. Yet, never has any of those moments affected our children. They do not know. As far as Asher and Axton know, their daddy and I are friends — and we are. Our ability to put our differences aside, to show constant grace towards each other, and to let go of the past, has enabled us to be the absolute best parents we can be.
No one gets married with the idea of it ending in divorce. After kids come, it makes it even harder. The idea of staying in an unhappy or unfruitful marriage seems to outweigh the idea of sharing time with your kids. I would be absolutely lying if I said it wasn't hard. It is. I can remember the first day the kids stayed at their daddy's house. My home seemed eerily quiet and I missed the constant nagging of two kids asking for snacks and attention. I remember the first Christmas Eve when I wasn't awakened by kids yelling in excitement. Many firsts are experienced that no one prepares you for.
We are lucky however. Yes, we still share our kids. Yes, we still have them 50/50 and many nights I miss the yelling of them fighting. However, we also gain so much more. Our kids see us get along. They see us team up to support them. They see us show up over and over, together, for them. 
No, there is no, "Co-Parenting for Dummies," but I would like to leave you with just a few things that work for us:
Communicate EVERYTHING.
It is important that everything is shared. Whether it is homework, sports schedules, doctor appointments, or sleepovers. Always let the other parent know what is going on.
Buy two sets of clothes.
Leave one set at mommy's house and one at daddy's house. When Tristan sends the kids to my house I have them take off his clothes and put them in their "Daddy basket." I wash the clothes and send them back to his house wearing those clothes. This helps so much on keeping up with clothes and not misplacing items.
Split homework duty. 
Check backpacks and do homework every night, no matter whose house they are at.
Work together on expenses.
We split everything down the middle — sports registration fees, sports equipment, school pictures, etc.
Show the kids you are a team.
Multiple times we have "family" meetings. Tristan, Albiro, and I meet with the kids and talk about expectations, rules, and consequences. This shows the kids we are in charge and there won't be any manipulation of rules from house to house.
Do NOT talk bad about each other in front of our kids.
We require our kids to respect their other parent.
Co-parenting is a perfect storm of chaos and cooperation. However, by truly putting the kids first, it is possible. I challenge you, that if you find yourself in a similar situation, try to open up your heart to a new way of co-parenting. One that allows your children to see both of their parents at their best. I believe that is not only what every child deserves and wants, but it is also what we as parents want for our children.