Photos by Jamie Alexander
The fall season is such a special time of year. Full of whimsical activities, good mischief and fun treats, it's the perfect time to celebrate those you love. As the weather turns colder, simple gift baskets can warm hearts. By arranging small gifts in a pleasing way, you can make a big impact without breaking the bank.
Treats not Tricks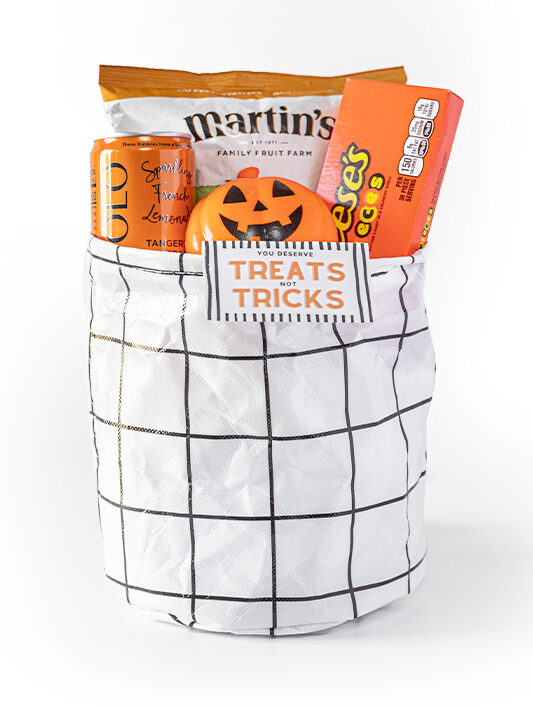 I love a gift with a theme! Halloween gift baskets are the perfect way to thank teachers and caregivers for all they do. Gifts don't have to be expensive or extravagant to show your appreciation. With some planning, they can be impactful and affordable! 
Start building your gift by deciding what to put it in. I chose a cute black and white basket (pictured) from the Target dollar spot, but you can use a trick-or-treat bucket or even a traditional gift bag. Just make sure to pick Halloween colors. 
When deciding what to go inside, remember that most everyone loves a snack! Look for items that are color-coordinated in their packaging. For instance, pick items with orange packaging to give everything a cohesive look. You can also add in Halloween items like a jack-o-lantern stress ball, fuzzy socks or a pumpkin carving kit. To keep the gift on a budget, I suggest a quick trip to the local dollar store for these items. 
To bring it all together, add a card! Buy or make a cute gift tag or greeting card and have your kids draw or write on the back of it. 
Supplies: 
Gift bag, basket or trick-or-treat bucket
Halloween goodies like candy, snacks
Thoughtful card
Halloween gift baskets are also a great way to spread some love to your neighbors. Drop your present on their doorstep with a kind note and brighten the spirits of those around you. 
Giving Thanks
Thanksgiving is a great time to slow down and show some appreciation to those you care about. Talk to your kids about who they're thankful for and why, then have them help you put together a simple gift for each person. These also make wonderful host gifts if you're celebrating Thanksgiving at someone else's home! 
Decide how big you want your gift to be, and then pick out a container to match. I like to check the Target dollar section for unique items like the wooden crate pictured. Since the Thanksgiving season has such a focus on food, you could also put your gift items in a pretty bowl that they can use later. 
You can cater your gift to the person you're thanking, but there are a few tried-and-true items that are always nice to receive. It's hard to go wrong with a candle, seasonal dish towel sets, small plants (like a succulent) and something self-care-related like lip balm or a face mask. 
Complete your gift with a handmade card from your kids to make it extra special.  
Supplies: 
Container: gift bag, basket, bowl, etc. 
Small items such as candles, seasonal decor, candy, etc. 
Handmade card