Spreading Joy
Photo by Jamie Alexander
There is something almost magical about climbing into the car during the winter holidays and driving past rows of houses decorated with thousands of twinkling lights. It soothes the soul, the inner child, and has a way of putting one in the Christmas spirit. Kentucky Wesleyan College freshman Carter Hoagland has found joy in this tradition since he was  10 years old. Over the past eight years, Hoagland has transformed that joy into a passion that makes life a little brighter for those in his family and his community. 
"Ever since I was little, I always put up Christmas lights with my dad and my grandad," 
Hoagland said. "Seeing all the decorations on the houses driving by, I just fell in love with it so I just kept buying more and more. I kind of started getting addicted to putting up Christmas lights."
For the past eight years, Hoagland has been hanging Christmas lights and creating displays for his parents and grandparents. His passion for the sparkling bulbs is so strong, in fact, that when Owensboro followed the state-mandate stay-at-home orders during the spring of 2020, Hoagland gained local attention for unpacking his Christmas lights and spreading a little joy throughout the community.
"He just loves lights," said Hoagland's mother, Krista Niehaus. "He's our local Griswold — he really is."
During the 2020 holiday season, Hoagland created a light display that included a one-of-a-kind Christmas tree farm complete with a handmade wooden walkway and 16-foot tall mega trees. 
"From the minute he turned on the lights at 4 p.m., kids would spend hours on the wooden walkway," said Niehaus, recalling the reaction of the neighborhood children.
This year, Hoagland said, he has even bigger plans in store for his Christmas light decor, including a 12-foot archway over the driveway and a fish pond made entirely of lights.
"I built more walkways to walk through my yard because I saw how much the kids loved it," Hoagland said. "I'm having a 'pond' run under the walkway. I've always wanted to cover the yard in lights…I did that with a stream running through the yard."
He added to the pond aesthetic by creating 'fish' made from bent wire and strings of lights, along with added rebar for stability. He also plans to place reindeer around the stream for a more realistic look.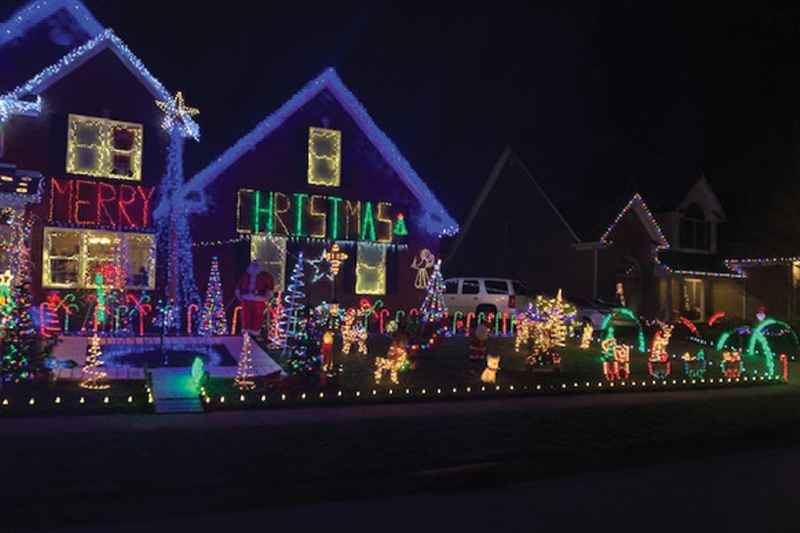 Hoagland, admittedly a bit of a perfectionist, begins putting up his first lights on Nov. 1 and does not turn them on until Dec. 1, to ensure they are all in proper working order. He said he has also learned a lot by trial and error, including plugging the main lights and extension cords indoors to avoid outdoor power outages due to rain, and using a timer to keep the electric bill low.
"He's taught himself," Niehaus said. "He's always loved using his hands to build; he could spend hours building legos as a kid."
While Hoagland relies on his own creativity to construct his light displays, he credits his dad and granddad for his gift. He has also drawn inspiration and support from other Owensboro homeowners who create lavish Christmas displays.
"All the little kids that go by, and the cars that go really slow, reminds me of when I was little," Hoagland said. "It brings me joy to see all of that."
Although Hoagland accomplished his goal of being listed on the Owensboro Christmas Light Map in 2020, at the age of 18, he still has an even bigger dream on the horizon.
"One goal I've always had is the Great Christmas light Fight," Hoagland said, "I want to be on that show. That's my ultimate goal — to have the greatest light display in the world."
The seasonal ABC Television show features families across America who "decorate their homes to the extreme for Christmas" in order to "compete to win a cash prize and the coveted Light Fight trophy." The cast and crew of the show made an appearance in Owensboro in 2014 to film the Lashbrook home in Stonegate. Hoagland said, while he hasn't met the Lashbrook family in person, he is inspired by their work. He said the idea for his handmade walkway was inspired by the walk through fireplace scene at the Stonegate home. 
Even though Hoagland still has a long way to go to accumulate the over 200,000 lights used at the Stonegate home, he adds to his collection each year. The 19-year-old college student heads out the door at 5 a.m. the day after Christmas armed with a list of lights and decorations he hopes to find at a discounted price.
"He writes down the colors, the bulbs that are burnt out, and he manages his money," Niehaus said. "He plans weeks ahead of time and pays for every bit of it on his own."
Hoagland, who is a member of the KWC soccer team and continues to maintain a 3.75 GPA, worked two jobs until his freshman year of college. Now in his sophomore year, he mows lawns each summer to earn money and spends $2,000 to $3,000 of it on Christmas lights and decorations, with a small portion going towards Fourth of July and Halloween.
"We've worked very hard for everything we have and that's what we're trying to teach him," Niehaus said. "He's figured out how to do this passion with his own hard work and dedication and I'm so proud of him for that."
If you would like to view Carter's Christmas light display, his home is located at 2451 Hillbrooke Parkway.