Photos by Jamie Alexander
Some people, like me, can eat breakfast for every meal. It's typically pretty easy to make, and you can combine sweet and savory treats all into one dish! There's nothing better. These breakfast foods are disguised as dinner to make things a bit more fun. They are also perfect for little helpers to make alongside an adult! Each of these dishes are customizable to fit each particular taste, and take almost no time to create! Don't forget, Mother's Day is approaching fast – why not treat mom to some of these recipes to start her day with breakfast-in-bed (or dinner-in-bed)?
Banana Sushi
Ingredients
›› Bananas (as many "sushi rolls" as you'd like to make)
›› A "spread" to make toppings stick (peanut butter, cookie butter, nutella, etc)
›› Any toppings you'd like! (coconut, sprinkles, nuts, freeze-dried fruits, candies, etc)
›› A baking sheet to roll ingredients!
Instructions
›› Line a baking sheet with parchment paper. Pour out your toppings for each banana in little piles (so you can easily "roll" the banana in each).
›› Peel a banana and cover it with spread using a knife. Once it's coated, roll it in your desired topping. Repeat with as many bananas you'd like for lots of variation!
›› Set the bananas in the fridge to set for 30min before serving. Slice into sushi-sized bites!
Breakfast Pizza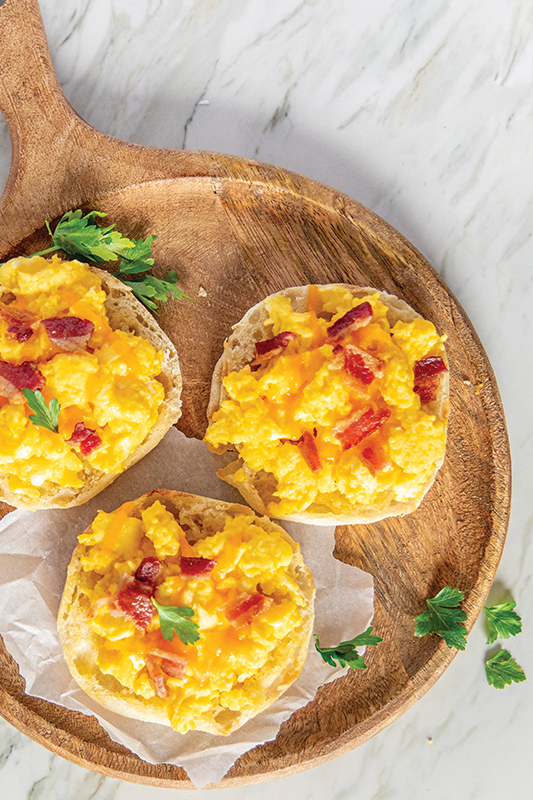 Ingredients
›› 4 English Muffins
›› 2 tbsp melted butter
›› 1 tsp garlic powder
›› 1 tsp onion powder
›› Scrambled eggs (made from eight eggs)
›› 1 cup diced meat, cooked (bacon, sausage, ham – your choice!)
›› 1 cup shredded cheddar cheese
›› garnish (optional)
Instructions
›› Preheat oven to 350 degrees F.  Split each English Muffin in half. Combine garlic powder, onion powder, and butter in a small bowl, then brush each muffin half with the mixture. Arrange on the baking sheet.
›› Scoop scrambled eggs onto each English Muffin, then top with shredded cheese
›› Bake for 10-15 min (until cheese is melted and muffins are toasted)
›› Garnish and serve!
Pancake Tacos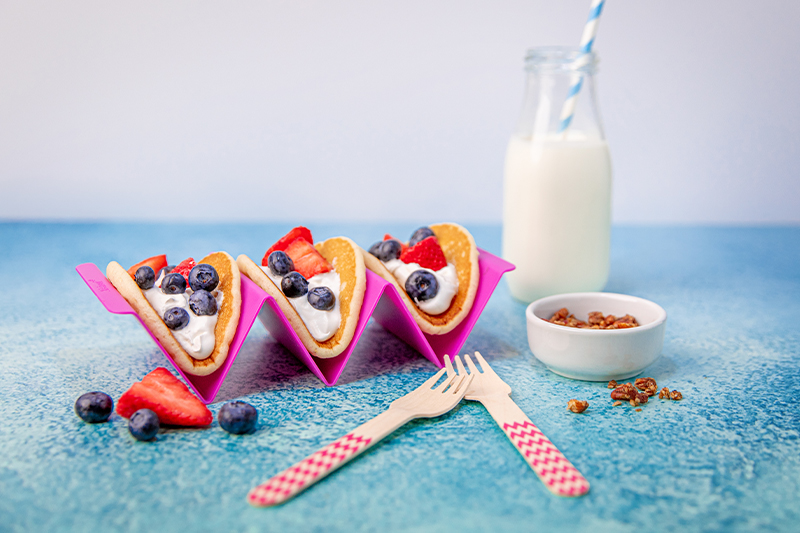 Ingredients
›› Your favorite pancake mix 
›› 1 cup whipping cream
›› 1 cup vanilla greek yogurt 
›› Your favorite fruit as toppings
Instructions
›› Make small circular pancakes following the instructions on your favorite pancake mix
›› Beat together Whipping cream and greek yogurt until stiff peaks form
›› Spoon whipped cream mixture in the center of each pancake. Top with fresh fruit, and fold in half to serve like tacos.