Local teen authors two children's books
Photos by Jamie Alexander
Since childhood, Owensboro teen Kaitlyn Craig has enjoyed creative writing and drawing. What began as a hobby, has now developed into something much greater. At the age of 18, Kaitlyn has written and illustrated two books, and is currently working on a third. 
Given her shy and reserved demeanor as a child, Kaitlyn's mother, Jennifer, reflects on how her unique writing style has given her an outlet for expression. 
"Kaitlyn has always loved to create things. She's been drawing since she was a kid and writing stories," Jennifer said. "When challenges came her way recently I was concerned initially that it would keep her from achieving her goals and cloud her focus, but it has been the exact opposite." 
Diagnosed in June 2021 with Tourette Syndrome, Kaitlyn, who recently graduated from online Acellus Academy High School, has continued to push forward. Rising above and beyond health conditions that stood in her way, she has maintained a positive outlook. 
"My daughter is determined to be successful," Jennifer said. "If anything her diagnosis has made her stronger. She is outgoing and motivated." 
A feline enthusiast, Kaitlyn cares for six cats who are more than pets, but trusted friends. Her first published book "Chip-o-saurus" features a dinosaur who is a potato chip connoisseur, much like one of her cats, who enjoys chips as treats. She credits her cat for the inspiration. 
Kaitlyn's second published book, "Teddy the-not-so Terrifying Tyrannosaurus Rex" is light hearted, much like her first book, but has a theme that focuses on staying true to yourself. When asked about the central message of this text, Kaitlyn shared her goal as the author.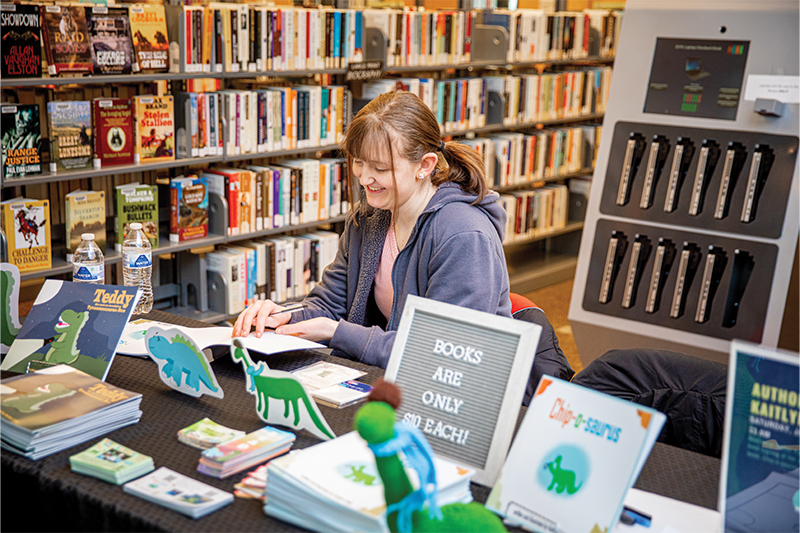 "I hope this book helps encourage the reader to be less judgmental of others," Kaitlyn said. "Teddy is judged by how he looks, and that isn't fair." 
Writing her books immediately after her graduation from high school, Kaitlyn has been busy. In fact, she is already writing her third book, featuring two fun loving cats, "Blip and Blop." She joked about their adventures. 
"Blop is lazy. Blip is very imaginative. They are quite the pair," Kaitlyn said. 
To celebrate Kaitlyn's accomplishments, the Daviess County Public Library hosted a book signing in January. Her books were available for purchase at the signing, but are also currently available on Amazon. 
In addition to writing children's books, Kaitlyn works a full-time job. When asked about her mission as a young author and illustrator, Kaitlyn shared how her accomplishments have helped her grow. 
"You can't give up," she said. "I could have stopped following my dreams, but writing stories and creating art is what I love, I refuse to give up. Never give up."