Photo by Jamie Alexander
When I interviewed Jackie and Zach Smith in the spring of 2016, they were raising money for egg donation and IVF (in vitro fertilization) in order to have a baby. Jackie's jewelry-making hobby had become a side business, selling items in local boutiques, on Etsy, and through social media to raise money for the high costs. Five years later they are parents to two precious girls, and Jackie's #beadsforbaby campaign has become her career. 
The Smiths' infertility journey began when Jackie was diagnosed with premature ovarian failure at age 29. With only a 5% chance of ovulating and a strong desire to carry a child, Jackie searched for an egg donor. While reconnecting with a sorority sister on Facebook, Jackie found someone willing and able. "I thought choosing an egg donor was choosing my replacement," she explains. "Turns out, I was choosing a soul sister and a friend. I was choosing family."   
After two unsuccessful egg transfers in 2016, Jackie became pregnant in January 2017. She recalls, "In the grand scheme of things, our process went pretty quickly. When you're in the middle of it, though, it seems like a lifetime." 
Every time, Jackie agonized over the two-week wait between the procedure and the bloodwork. For the first two transfers, a line would appear on a home pregnancy kit, and then it and the Smiths' hopes would fade away as the appointment drew nearer. The third time, the line grew darker each day, the bloodwork confirmed a viable pregnancy, and Channing Michelle Smith was born on September 30, 2017. 
Jackie's mother, Shelley Schmitt, says what a blessing it has been to see her daughter become a mother. "Watching her plow forward with all the obstacles makes our love and appreciation for these babies even stronger. But even more so I saw a side of my daughter I somehow missed, and I'm just in awe of her!" After Channing was born, the Smiths moved into Shelley's neighborhood. The proud grandmother only has to travel six doors down!  
In 2020, Zach and Jackie decided they wanted Channing to have a sibling, someone who could share her story and her genetics. Jackie explains, "Our longing was just as strong, but the cost was less, our lives were busier with a toddler, and we felt more confident in what needed to be done to prepare my body."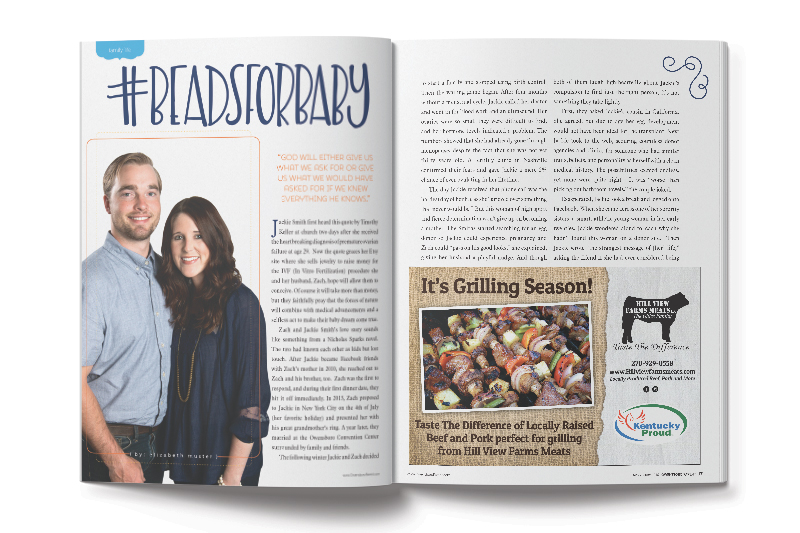 This meant three shots a day for the first ten weeks of pregnancy, and then two shots a day until Sylvia Richey Smith was born on May 3, 2021. 
As the Smiths' family grew, so did Jackie's jewelry business. Three more women joined Jackie's team to help with marketing and creating. In January 2020, they launched their website jackiebluehandmade.com. This streamlined the process of taking orders, so Jackie had more time to focus on the creative aspects. The jewelry can also be custom-ordered online or purchased at Shelley & Friends, Bella Ragazza, or Farmhouse Handmade.
Jackie's #beadsforbaby reaches beyond her own journey. Over the past couple of years, she has created three different infertility bracelets. Two of them served to raise money for other couples; the third was to bring awareness. Jackie explains, "The financial piece of infertility treatments and adoption are daunting. If we can help in even a small way, we want to do it! We have been able to raise several thousand dollars to help couples and more importantly, we continue to bring awareness to a topic that is often taboo." 
Besides financial support, Jackie is always willing to lend an ear to those in similar circumstances. "By sharing my story, I hope that other women (and men) realize that they are not alone. It's always nice to talk to someone who gets it, and I want to be that person for others."
Needless to say, the past five years have been busy for Zach and Jackie, but the biggest — and best — change is how much their hearts have grown. The success of Jackie's business allows her to work from home. Zach also changed jobs and now works in Owensboro at Danco Construction. This allows him more time at home with his wife and daughters. 
Jackie says, "It has been a dream come true to raise my girls and grow my business all under one roof. It just doesn't get any better! And honestly, it wouldn't have been possible without the support of this community buying my jewelry and loving my family. And for that, we are forever indebted!"