Kristen Hart, mom of two girls, says she is a Pinterest mom and a Hobby Lobby lover, but also has a style all her own.
She and husband, Chad, CEO of the Hopkins County YMCA, have two daughters — Everly, 4, and Addison, 2. Kristen says while Everly has the biggest imagination, and loves dancing, swimming and gymnastics, Addison is as ornery as can be, playing dress up, snuggling on the couch with a sippy cup of milk, and doing everything her big sister does.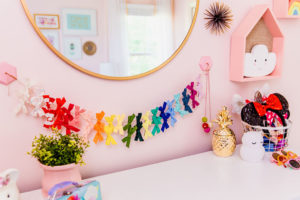 Kristen and Chad met when they were 15 and 16 and have been together ever since. They are the perfect complement to each other, according to Kristen, who said her husband, the social butterfly, befriending everyone he meets, complements her, a self-proclaimed introverted accountant by day, but a creative at heart.
Kristen said she lives for holidays, birthday parties, photography, fashion and writing. But also making their house a home. Read about how this mom, a full-time controller at Wendell Foster, created beautiful rooms for her girls.
Where do you get your design inspiration?
My design inspiration mainly comes from interior designer Instagram accounts and other mommy bloggers who fit my style. Studio McGee, is a favorite. But for the girls' rooms specifically, I was inspired by Caitlin Wilson. I also pull a lot of inspiration from my mother. Although we have very different tastes in interior design, she has a way with making a house feel welcoming and homey. I strive to recreate that feeling in my own home. I always appreciate her opinion, even if it's disagreeing (which happens regularly).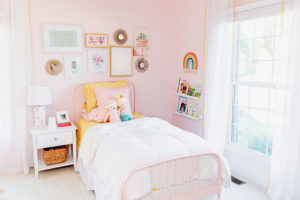 We love your color choices! How do you find complementing colors?
Lots and lots of shopping. I start my decorating process with one special item in mind. Then I find pieces that coordinate with that one thing. For Everly's room it was her pink bed. For Addison's room it was the floral wallpaper.
Is budget an important factor?
No, which is why it takes me so long to finish decorating a room. When I find something I love, I don't mind to save up for it for a few months (or longer) if it's currently out of budget. We've been in our current house for over two years and I still don't consider the girls' rooms complete.
Do your kids help with the design of their rooms?
No, they're too young to mind. But I do try to keep their personalities and interests in mind when decorating, which is why their rooms are the most colorful in the whole house.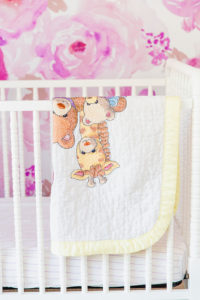 What things were a must and a must-not?
Must: a design the girls could grow into. My husband would die if I wanted to redecorate their rooms every couple of years. Must not: very minimal toys. It invites mess and honestly, they just don't look pretty. That's what the playroom is for. It's a disaster.
Is there something sentimental in the room?
Both girls have blankets that were cross-stitched by their great-great grandmother just for them. Both girls also have rocking chairs that were mine when I was a baby. Then there is a little blue stuffed bear in Addison's room that is made of my crib bedding from when I was baby.