Personal appearance matters.  Choosing clothes that make you feel good about yourself every morning makes a positive difference in your attitude and energy.
So you're a stay at home mom.  You can still wear dresses and nice clothing while cleaning the house and caring for your toddlers.  Everything washes and the confidence you project with your polished look will be pleasing to your family as well.  For especially messy tasks, tie on a beautiful apron and slip on some gloves.
There is nothing nicer than a well-dressed gentleman.  Just because most people in the office have given into the jeans and t-shirt trend doesn't mean that you must.  Crisp khakis, a pressed button-down shirt, and a bright tie are always appropriate.  Even around the house, make it a habit to wear clean, quality garments that present you as a figure deserving respect.
You've worked hard all week and you are ready for some time to relax.  Make Friday evening rejuvenating with presentable pajamas.  Update your sleepwear with matching pajama sets and soft, fresh nightgowns.  Be sure to include a dressing gown or robe to wear while outside of your bedroom.  Imagine that you must be in front of your neighbors in the middle of the night.  Choose pajamas that make you feel put together.
Consider also your undergarments.  These pieces work the hardest and are often the last to be considered when refreshing a wardrobe.  But remember, just like a house must have a good foundation to function at its best, well-fitting, quality undergarments will make your outer clothing look their best as well.
This spring, open your closet and dresser drawers and pull it all out.  Go through your clothing piece by piece and ask yourself these questions: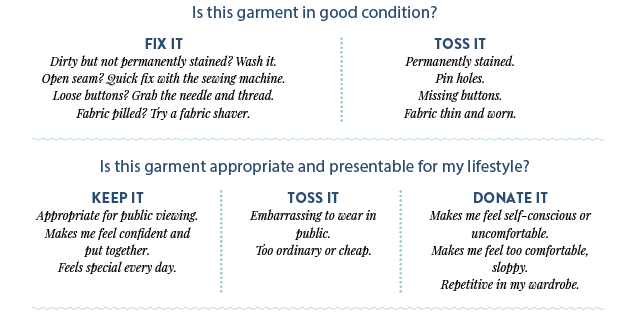 Now take stock of your Keep It pile.  Are there any gaps to fill in your wardrobe for the spring and summer?  Make a list before going shopping to focus your efforts efficiently.
Being presentable does not mean that you must spend a fortune on a huge wardrobe.  Choose the highest quality and best looking garments that you can afford and treat them well as you launder them.  Keep in mind a sufficient clothing collection need only satisfy 7 to 10 days of options.  Limit the pieces in your closet to only those that truly make you feel your best.  
These same questions apply as you sort through kids' clothing as well.  Let your children wear those beautiful and seemingly impractical clothes that Grandma bought.  Is it a greater waste of money for the clothing to be worn and possibly stained or to sit in the closet waiting for a special event?  Before you know, the kids have grown out of them and they were never enjoyed.  And, believe it or not, presentable clothing positively affects your kids' attitudes and behaviors as well.  
When you first commit to making yourself always presentable, you may receive comments from those around you.  Graciously accept the compliments, and brush off any dissent.  If your experience in this journey is like mine has been, your example will be an inspiration to others.  Just doing what we can to make the world a more beautiful place.