As a comprehensive dermatology medical facility, our team at Owensboro Dermatology strives to be known for exceptional patient care by providing the best possible service with the use of innovative, modern technology and the most effective treatments available. While these pillars are an important part of our practice, we also understand the importance of supporting our community. This is why we are partnering with Owensboro Parent to show a little Local Love to  some nonprofit organizations in our community and offer parents some tips on how to incorporate volunteerism in your family. 
Did you know that giving to others can help unite your family and bring you closer together? Through volunteerism and donation, you set an example of kindness for your children that can impact their development and how they treat others. 
"Volunteerism" is a difficult concept for younger children, but even kiddos as young as three will find value in helping others in need. Now is the time to instill a lifelong desire to serve others. Don't save your time of giving back just for the holidays. Make a commitment as a family to give all year long. Here are some quick tips to help your family become more involved in volunteerism and giving back to our community.
 Be a role model. 
Our kids love to copy us. Let them follow your lead as a volunteer. When we as parents are involved, our children look forward to the activity even more. And as a bonus, you get to share some extra special time with your child. 
 Find the fun. 
Giving back doesn't have to be a chore. Find something that interests your child or family. 
 Find something easy for your family. 
Volunteering doesn't have to be a big undertaking. Start small. Maybe ask your child to sift through unused toys to donate. Pick up litter on a family walk. This will inspire more ways to give back in the future. 
 Fit your family's schedule. 
Between school, work, sports and events, family life is busy. The trick is to build volunteering into your schedule so that it becomes a priority. 
 Create your own opportunity. 
You may find that organizations have age restrictions or other requirements for volunteers. Don't let that deter you from helping. Create your own way of giving back. Maybe a fundraiser like a lemonade stand could help your family support others in your own way.
 Think beyond volunteering. 
Exposing your child to important social issues, such as homelessness and inclusion of those with disabilities, are just as vital as giving your time to organizations that support these causes. By showing your child who needs help, you can inspire them to make a difference and better understand their peers who may experience these issues.
We at Owensboro Parent and Owensboro Dermatology want to encourage you and your family to show a little local love this year and consider helping a local nonprofit organization. Here are just a few organizations that your family could support.
Beverly's Hearty Slice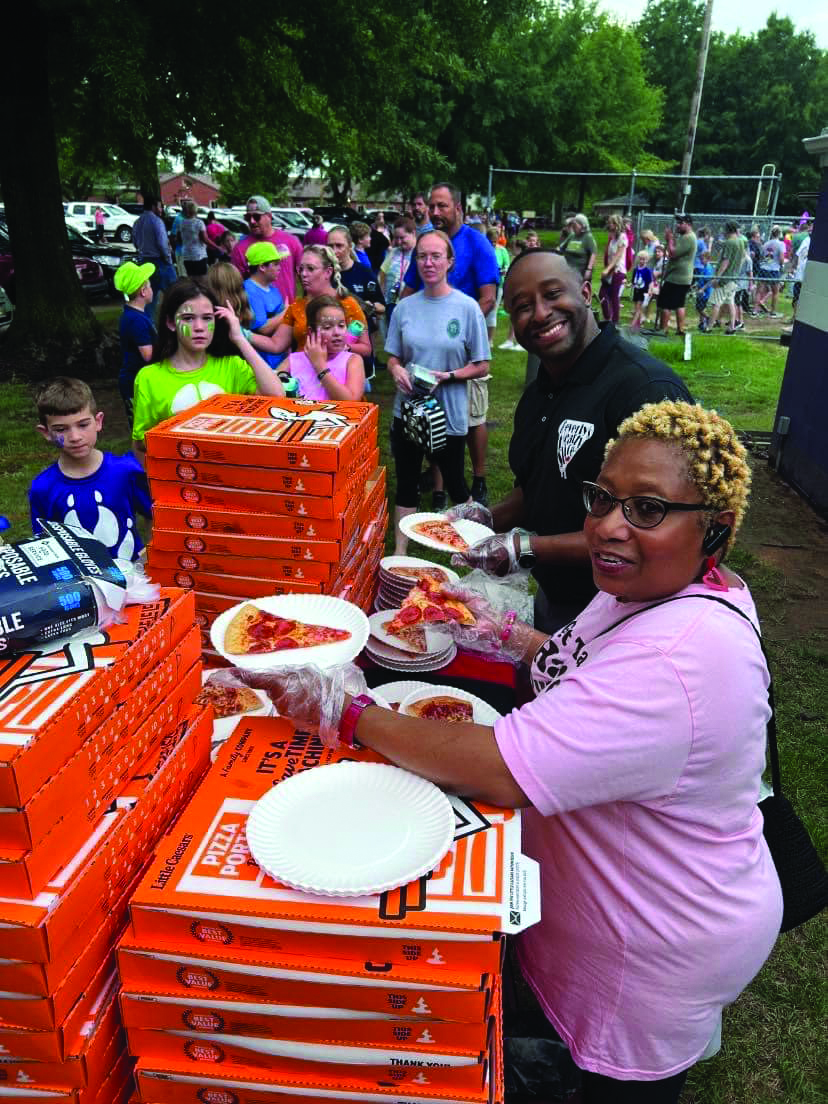 Beverly's Hearty Slice was created in 2020 by Travis Owsley to honor his mother, Beverly Slaughter. Beverly loved to provide free food in her community when she had the opportunity to make big meals. After Beverly's passing in 2018, Travis wanted to continue his mother's tradition and from that Beverly's Hearty Slice was born to help keep kids off the streets, away from drugs and gun violence.
What started as a pizza giveaway in Kendall Perkins Park has grown into a successful nonprofit. Beverly's Hearty Slice now serves 200 people every two weeks in multiple parks across Owensboro. 
The nonprofit also gave away backpacks in August just in time for kids to go back to school.
They provided scholarships to Camp Connect. The week-long summer day camp typically cost $239 per camper, but Beverly's Hearty Slice families could send a child for just $25.
Thanks to a donation from Southern Star Gas and Pipeline, Beverly's Hearty Slice gave away 250 take-home Thanksgiving meals.
With the help of local businesses, Beverly's Hearty Slice threw a Christmas party at Kendall Perkins Park. They provided more than 200 toys to local children and Walmart gift cards to parents. They gave away coats, goody bags, bikes and more.
"This is a dream come true. There are so many families and kids that can benefit from our free meals, Thanksgiving dinners, and Christmas gifts," he said. "The thought of giving these families hope and a free meal that they can depend on every other week is a blessing from God."
In addition to providing food and drinks to the community, Owsley hopes their efforts will inspire others to give back, create diversity, and "provide hope during these trying times."
"My mom would be very proud," he said. "There were so many times we had to depend on churches, help offices, and the Pitino Shelter for meals. To see it all come back full circle, and us being able to provide for those in need in my community and other communities, it's truly a blessing."
Fresh Start for Women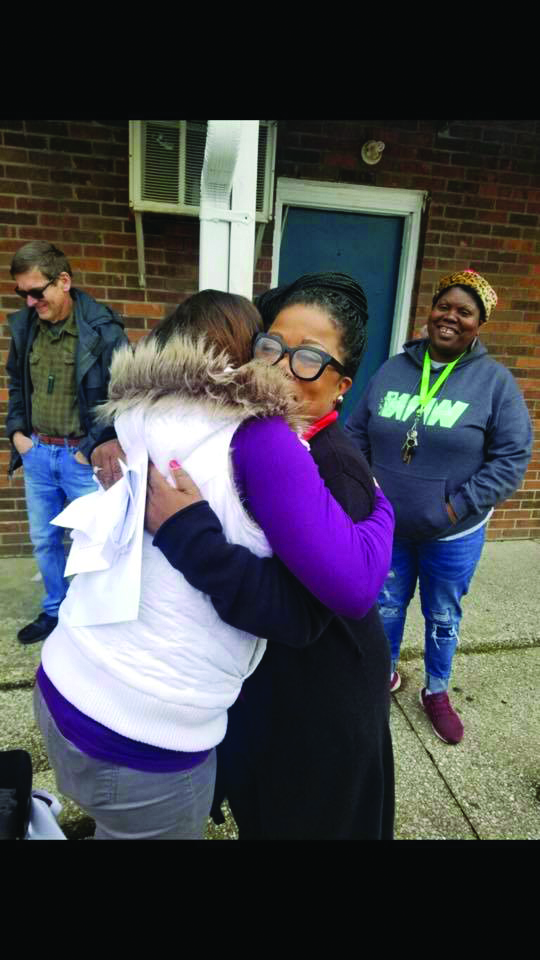 Fresh Start for Women provides a safe, affordable transitional housing environment for single women who have completed an addiction recovery program or are facing other life challenges to transform them into the women they were destined to be.
How did Fresh Start come to be? Now Executive Director Cindy Jean was driving home to Owensboro from Bowling Green a few years back when she had an epiphany. She said God spoke to her, essentially encouraging her to continue her efforts in assisting women to overcome addiction, poverty, domestic violence, and other hardships. 
The words were so clear that she immediately pulled to the emergency lane of the William H. Natcher Parkway and began jotting down notes. With few rocks left unturned, she decided it would be a 12-unit complex that provides low-cost housing that provides "community" support for women trying to find themselves in this world. 
"We began this seven years ago with no money," Jean said. "We had a yard sale and raised $425, and within three months, we had $20,000 in donations from people that understood our heart for helping women. We leased a building, and the landlord moved the current tenants out. The living conditions weren't great at first, but we put a lot of work into it, making it nicer."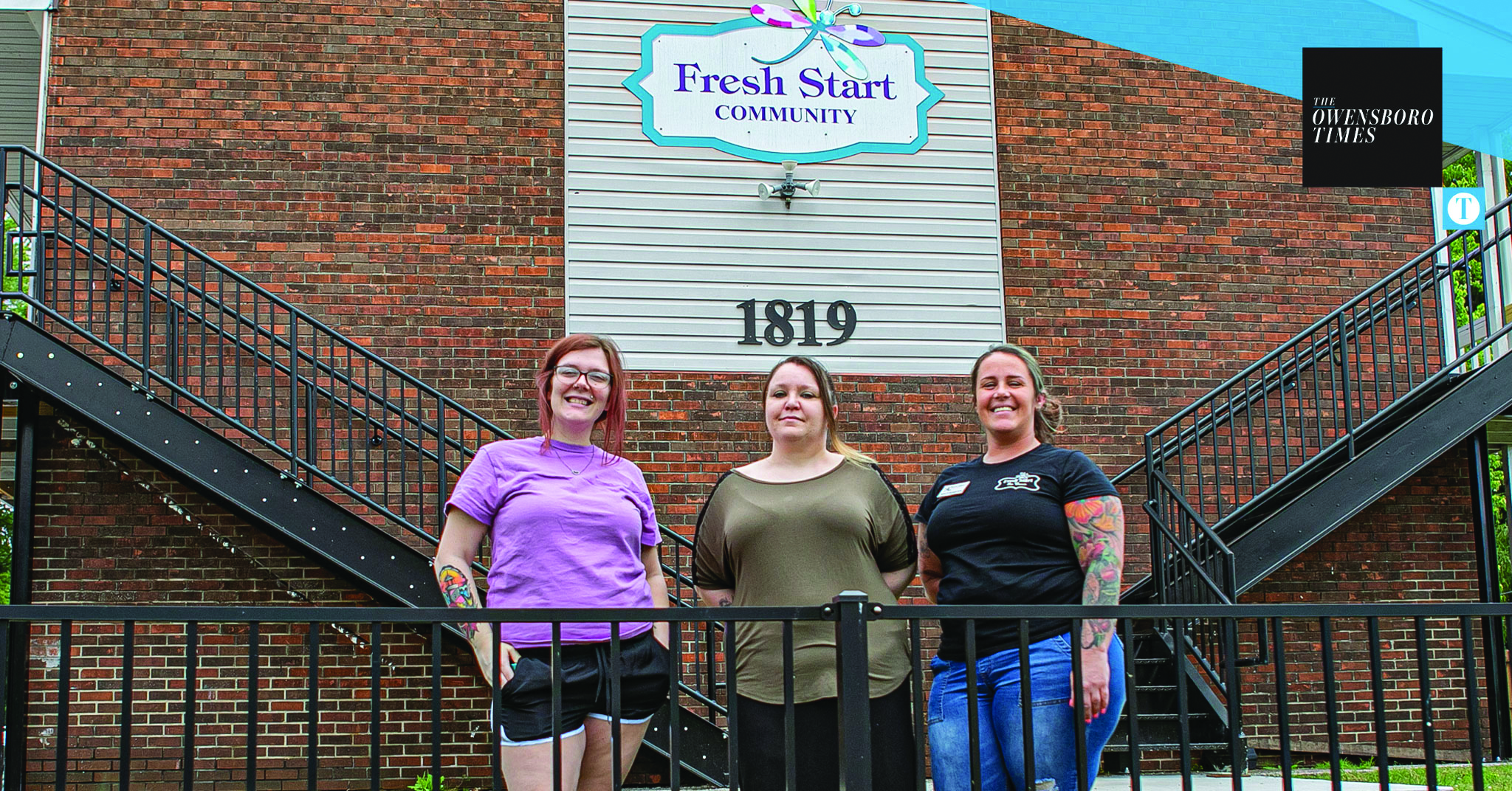 Fast forward to now, and the nonprofit owns the renovated 12-unit complex and three neighboring homes to expand its mission. 
Fresh Start provides encouragement and support by paying a portion of the women's rent and utilities. This lessens some of the financial burden and the stress that comes with rebuilding a life which had been derailed by unhealthy relationships, poor decisions, jail time, debt, etc. These two bedroom apartments are technically unfurnished, but with the aid of the local community, the women are gifted items needed to establish independent residency. All women must have a steady income.
"We have 16 single-mom families that live on the property," Jean said. "There are a lot of everyday struggles from moms coming out of domestic violence and addiction. Our atmosphere of family and love is welcoming to them."
Boulware Mission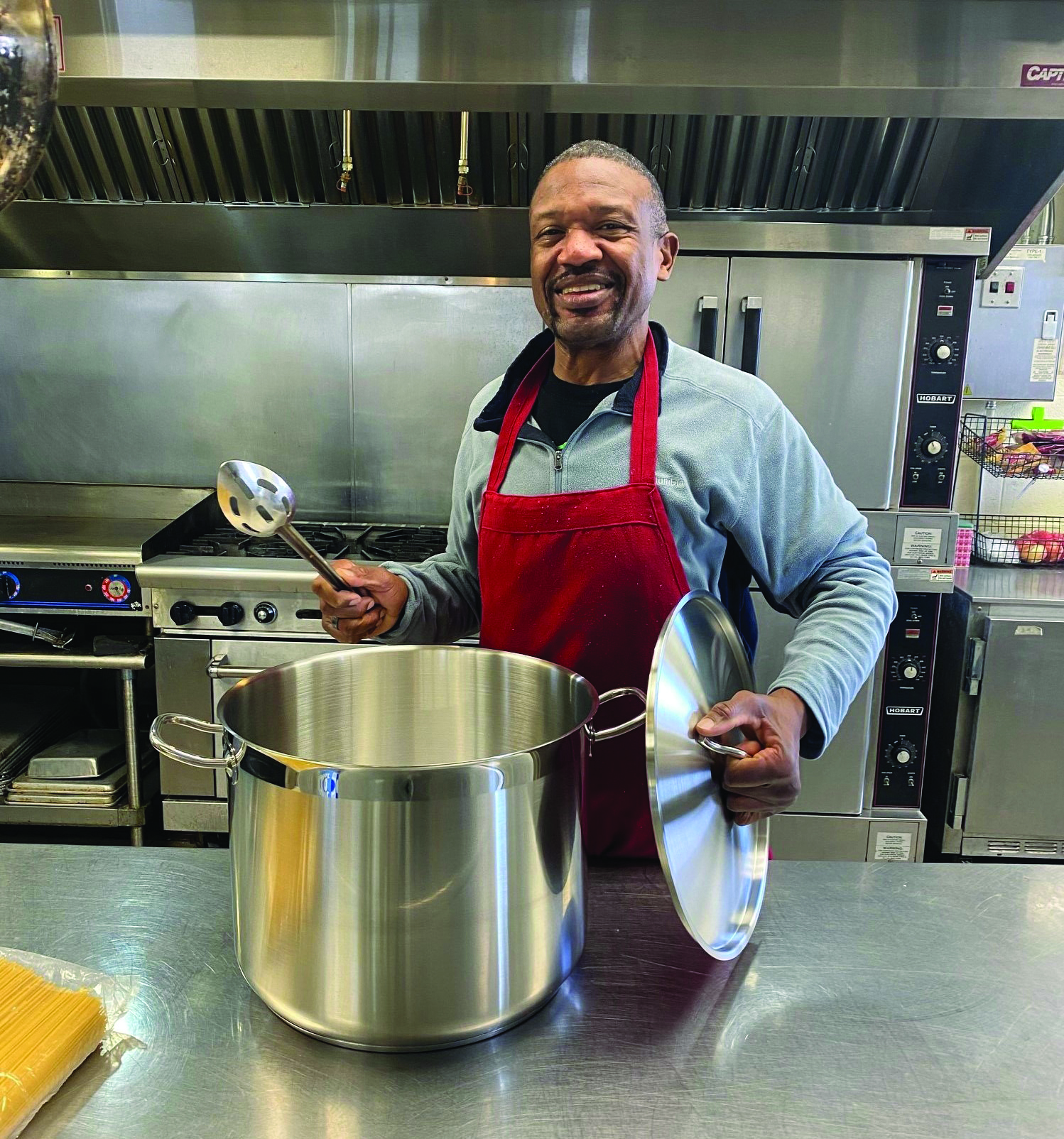 The mission of Boulware is to help displaced individuals become self-sufficient through treatment, education, and services.  Their focus is on recovery from the root causes that brought clients to Boulware in the first place.
Boulware has been a staple of the Owensboro community for more than 100 years. Today's Mission began as the dream of a local school teacher, Miss Milton Boulware, who wanted to help feed the poor and shelter the homeless. She and four colleagues founded the Gospel Center Mission, which would later be re-named the Boulware Mission, on May 23, 1921. In its early days, it served as a faith-based settlement house and a place where neighborhood children could be supervised after school and feel safe. 
In the early 1990s, the Mission exclusively became a homeless shelter. Life skills classes were incorporated and the need for a drug and alcohol addiction treatment program was recognized.  The program was introduced in 2005.  As the need for client services overextended the capability of the Hall Street facility, the board considered the option of expanding that building. Instead of expanding, the board voted to purchase the vacant Passionist Nun Convent at 609 Wing Avenue.
In 2006, the Mission gained approval from the city to operate the Wing Avenue property as a satellite of Hall Street with a maximum occupancy of 90 clients. A $500,000 renovation of the Wing Avenue building was conducted and in November of 2008, the Wing Avenue campus was formally opened with beds for 31 male clients.
Over the years, the work of the Mission has adapted many times in order to meet the greatest needs of the community.  As the Mission's drug and alcohol treatment program proved successful, it started to gain attention from the local courts and judges began sending individuals to treatment and services at the Mission in lieu of incarceration. 
Today, Boulware Mission provides shelter services to displaced men as well as a long-term self-sufficiency program aimed at helping clients become independent, contributing members of the community.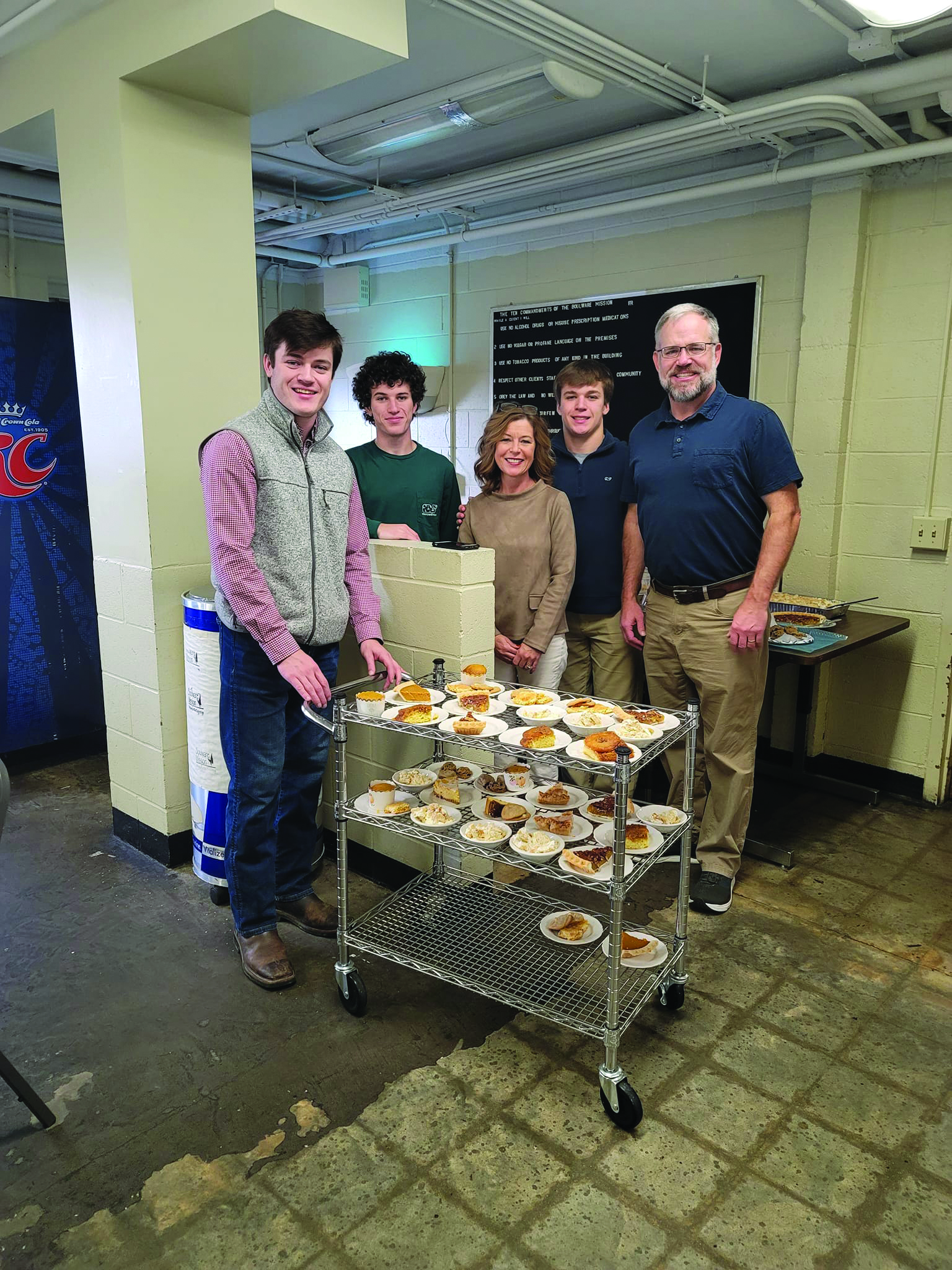 Boulware provides clients with 3 nutritious meals per day, snacks, emergency clothing, personal hygiene items, secure shelter, case management services, outreach, advocacy, and referrals to local and regional resources along with follow-up services. The Self-Sufficiency Program includes financial literacy, referrals for GED tutoring, employment skills, and licensed substance abuse treatment. 
In addition to the residential services, services offered to the public include a public treatment program for men.  
Boulware primarily serves the Green River Area Development District (GRADD) of Western Kentucky which includes the counties of Daviess, Hancock, Henderson, McLean, Ohio, Union, and Webster. The Mission is located in Owensboro, Kentucky.​  Services provided by Boulware Mission are available 24 hours per day, 7 days per week.