Photos by Jamie Alexander
There is a sense of magic each holiday season. The enduring spirit of Christmas is a special time for many. As December fast approaches, two Owensboro families, the Lashbrooks and the Burdens, prepare for an annual holiday tradition that has spread joy and wonder season after season. There is no need to travel a great distance to experience a festive and enchanting plethora of lights, our city has its own winter wonderland available in east Daviess County. 
Reflecting on how their annual Christmas festivities began, Jeff and Connie Lashbrook pay homage to humble beginnings that inspired their now famous light display in Stonegate subdivision. 
"When we were first married we lived in the Thoroughbred Acres East neighborhood in 1986. The neighborhood used empty gallon milk jugs filled with sand and candles that lined the sidewalks during the Christmas season," Connie Lashbrook said. "Everyone participated and it was really pretty. We already had some decorations but we continued to expand our lights from that point on." 
In 1992, after building their home in Stonegate, Jeff and Connie Lashbrook began decorating each Christmas. Each year, the displays have grown in size. Crediting her husband's love for Christmas, Connie Lashbrook notes that the holiday lights are just a small part of what makes her family's tradition so special within their home community.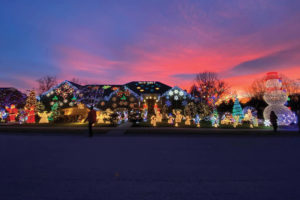 "Since our neighborhood started generating a lot of traffic to see the lights, my next door neighbor suggested we make use of the traffic and we started collecting money for local charities," Connie said. "Santa handed out candy canes with the elves (which was Jeff and our kids). There was a hot chocolate booth too. The neighbors would vote on a charity and the money was donated to them. We started this in 1999 and have been doing it ever since. Every year we select a different charity." 
Given the popularity of the annual Christmas lights, Connie has her own favorite seasonal display, as does her husband Jeff. 
"My favorite display is my nativity scene with the manger built on site every year — it is just beautiful," Connie said. "Another favorite of mine is near my front door — two individual six foot toy soldiers guard them. Jeff's favorite is the Toyland scene and the snowmen family, which represents us and our three children." 
Over the years the Lashbrook family has created special memories around their spectacular display. The family appeared on the ABC show "The Great Christmas Light Fight" in December 2014. Prior to appearing on the show, Jeff watched the short series and was inspired to compete. 
"We applied for the show. We had a series of phone and Skype interviews and we were ultimately selected," Connie reflects. "We had our own production crew and producer.  It was so much fun to film the show and it was interesting to get to see what all goes into a television series. We didn't win the $50,000 prize, but we had a blast as a family." 
When asked about what has been added for 2020, Connie is excited about the upcoming holiday season. 
"There is always something new added. This year we have several new reindeers and other small pieces," Lashbrook said. "A lot of people like to see if they can figure out what is new every year. We are always looking at ways to improve. Due to the coronavirus we are making our walkway to the picture taking area one way in and one way out to accommodate the social distancing. It will double our work, but we need to do our part to help try to keep people safe so that they can still enjoy taking their annual Christmas family pictures."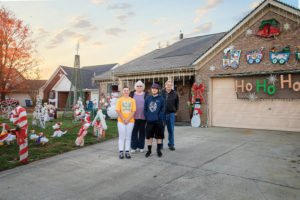 A short distance away in The Downs neighborhood, Gwen and Douglas Burden begin getting their own holiday display ready for visitors in early September each year. The Owensboro couple have been spreading Christmas cheer season after season through elaborate light displays used to decorate their home. 
Gwen acknowledges that her grandchildren are the couple's inspiration, estimating the grand total of twinkling lights used at their home to be somewhere near 30,000 and counting. 
"It was really our grandson who inspired us to keep going, adding more annually," Gwen said. "He would say, 'Hey, you got a dark spot over here.'"
The rest is history. 
The colorful and festive displays have begun expanding and evolving each year. It's safe to say, no dark spots remain. 
This year, customized light displays ordered from Florida will be added to represent each of the Burden's grandchildren. 
"We are adding a light display depicting a scooter, a softball catcher, and a minivan, to our home," Gwen said. "Each of them are customized to represent something significant to our grandchildren." 
A total of seven new holiday songs will be added to the existing 23 that are programmed and choreographed with the lights. People who are driving may tune into local radio station 88.1 to hear Christmas music while touring the Burden's property, which makes the experience uniquely festive. 
"We keep the lights on nightly from 5 – 10 p.m. with the exception of weekend nights, extending the hours to 12 a.m," Gwen said.
The Burden's hope to continue sharing their festive joy with others as long as they can. They often notice those who are repeat guests and enjoy those who Gwen call, "daily onlookers." 
"Often the neighborhood children will come over as soon as they get home from school to enjoy our home," Burden said. "They are our daily visitors, and they make it worthwhile." 
Despite the challenges 2020 has presented, Gwen is hopeful that the annual Christmas lights will lift others' spirits. 
"This is our passion," she said. "If our lights make others happy, we have succeeded and every ounce of effort was worth it."