Ke'Asha Phillips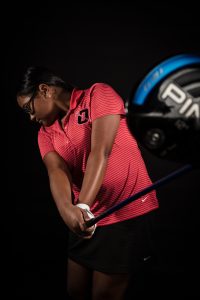 Sport/Position: Golf
Age/Grade: 17, Senior
School: Owensboro High School
Coach: Gabrielle Hart
Parents: David Phillips & Tiresha Hall
Records/Achievements: 5 -time Women's City Champion; 2-time region champ; 2016 Region MVP and Player of the Year; tied for 3rd at the KHSAA 2016 State Golf Tournament; 2016 1st Team All State Golf Team
Who inspires you: my little sister and great grandma
Why your sport: I choose to play golf because when you can't blame anyone but yourself. It's also almost 100% a mental game and you can play the game no matter how old you are. It's simply just the best sport.
What is your dream career: My dream is to try and qualify to be on the LPGA after college. If not, I want to be a social worker and help out as many kids and families as possible.
---
Bryan Sapp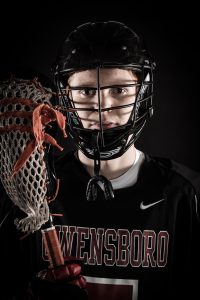 Sport/Position: Lacrosse- midfielder
Age: 17, Senior
School: Owensboro High School
Coach: Matt Madej
Parents: Laurie and Ronald Sapp
Records/Achievements: This is not lacrosse related due to us only having played one game, but I was a 2016 Governor's Scholar.
Who inspires you: Derek Jeter inspires me by his leadership both on and off the field. His level of leadership is what I strive for.
Why your sport: I wanted to play a physical sport in the spring and lacrosse seemed like a great option. I am glad that I chose it.
What is your dream career: My dream career is one in chemical engineering.
---
Nya Gracie Hammons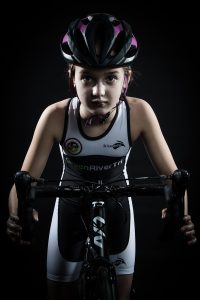 Sport/position: Triathlons and Swim Team
Age/grade: 11, 5th grade
School: West Louisville Elementary
Coach: Triathlons – Jan Ward, Karen Hobelmann, Dylan Hammons; Swim – Patsy Elliott, Kay Ewing
Parents: Shelly and Dylan Hammons
Records/Achievements: 3-year age group triathlon champion at the Dubois County Youth Triathlon, Competed in USAT Youth Nationals, multiple podium finishes at local youth triathlons. I've raced closed to 20 youth triathlons in the past 4 years.
Who inspires you: I am inspired by Katie Ledecky. I am also inspired by my parents because my mom does triathlons and my dad coaches the running portion of my triathlons. When my mom finished her Ironman, it inspired me do it and I saw so many others finish. I knew I could do one too.
Why your sport: Because it is really fun for me and I like to push myself as hard as I can.
What is your dream career: Middle School science teacher
---
Braelynn Johnson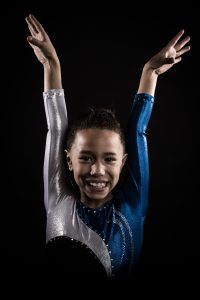 Sport/position: Gymnastics
Age/grade: 9, 3rd grade
School: Whitesville elementary
Coach: Jody Norris
Parents: Lacey Johnson (Shaun Schroader)
Records/Achievements: Level 3 gymnast; Recently achieved my front hip circle on the uneven bars. I can do my round off back handspring and round off back tuck/layout. I recently placed 2nd on the vault at my meet in Whitesville and at my winter fun AAU meet in Logan County I placed 1st all around.
Who inspires you: The women's USA gymnastics team
Why your sport: I like that I get to be with my friends and learn different routines. I like to tumble and do flips even when I am not at practice or at a meet.
What is your dream career: To be a gymnast on the US team for the Olympics.
---
Carter Payne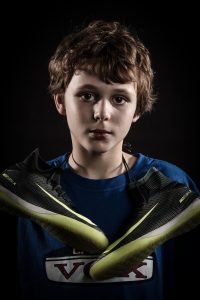 Sport/Position: Futsal/Soccer, Midfielder
Age/Grade: 10, 4th grader
School: Highland Elementary School
Coach: Ty Stauffer
Parents: Matt and Jill Payne
Records: There's numerous accomplishments and achievements as a team with both my outdoor club team and my 3v3 team, my indoor futsal team and with Kentucky ODP (Olympic Development Program).  Soccer is a team sport and that's why I love it.
Who inspires you:  Luke Stauffer, he plays soccer at Creighton University, he is also a member of the US Futsal Men's National team with dreams of playing in the MLS (Major League Soccer).
Why your sport: Because it's fun, I get to play with my friends, its constant action and fast paced, and it's played outside and I love being outside.  I love futsal because it's like a constant fast break, like in basketball.
What is your dream career: Playing soccer and basketball at Creighton, then playing in the MLS, the US Men's National Team and US Futsal men's national team, like Luke.
---
Emma Owens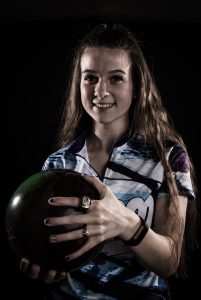 Sport/Position: Bowling
Age/Grade: 14, Freshman
School: Apollo High School
Coach:  Jamie Simpson, Ruben Ghiragossian
Parents: Tammy Owens, Mike Owens
Records/Achievements: The Current 2016 High School Bowling Girls Singles National Champion, 2016 15U Junior Masters Champion, Numerous singles titles including 2016 15U JTBA champion, 2016 15U SYIST champion, 2016 Owensboro City Girls Youth Champion, 2016 Kentucky All Star Team, 2014 and 2015 Bowler of the Year, I've made every All Tournament team in every High School tournament since 2014 to recent, Numerous other titles from Kentucky/Tennessee/Indiana/Ohio/Illinois
Who Inspires You: My true inspiration in bowling who I really adore looking up to would be Jason Belmonte. He knows that his bowling style is unique and different and he got so much hatred thrown at him for it. But yet, it never stopped him from following his dreams and keep bettering himself. It became such a feud with his bowling style that now thousands across the world throw with 2 hands. He inspires me to never give up no matter what other people's opinions consist of. He's taught me that if people are going to talk about you, you might as well give them an epic show.
Why Your Sport: As a competitive sport, bowling presents a truly demanding athletic challenge. Mental and physical precision, exceptional hand/eye coordination, unwavering muscle memory, and endurance are all required for bowling skill. Consider that in any given tournament, a bowler walks four miles; lifts, swings, and releases four tons; and must deliver every ball within four-tenths of an inch of a selected mark in order to reach a target which is 60 feet away and only one and six-tenths inches wide. I really love bowling because no one has ever perfected it and no one will be able to because bowling is a game of imperfections. There will always be mistakes and yet is why bowling is so challenging and competitive. I love the thrive and how it makes me feel all of the control.
What Is Your Dream Career: To be honest, I would love to join the Professional Women's Bowling Association (PWBA). Becoming one of the best female bowler's in the world has been a big dream of mine since I've really gotten into bowling around 11 years old.
---
Matthew Huston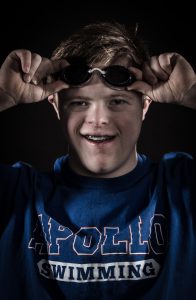 Sport/position: Swimming
Age/grade: 16, 9th grade
School: Apollo High School
Coach: Bill and Kelly Duncan
Parents: David and Cindy Huston
Records/Achievements: 100 freestyle – 1:39.01; 100 backstroke – 2:03.18
Who inspires you: My Dad
Why your sport: I like to swim fast!
What is your dream career: Work in an office, Chick-fil-A or Target