There's nothing cuter than watching 4-6-year-olds completing their first triathlon. On Saturday, July 16, the Owensboro Family YMCA went all out to make the first Owensboro Parent Magazine Kid's Triathlon presented by Independence Bank look and feel like a "real" sanctioned triathlon.
The youngsters, along with the older 7-14-year-old age group, were given the full treatment: a cheering section welcomed them; they crossed under a huge, inflated finish line; medals were placed around their necks, and post-race photos were taken in front of a backdrop by a professional photographer. After the race, Independence Bank's mobile branding unit provided a full spread of muffins, fruit, and chilled water.
There was no competitive spirit at the kid's triathlon, though. Simply completing the course was the priority, and having fun was the only qualifier. Several swimmers used floaties in the YMCA pool. There were some training wheels and a few tricycles on the bike portion of the course. A handful of parents ran alongside their little ones for the run portion.
The side yard of the Owensboro Family YMCA served as the swim/bike and bike/run transition area, with volunteers cheering, waving, and pointing the youngsters in the right direction down sidewalks full of cheering parents.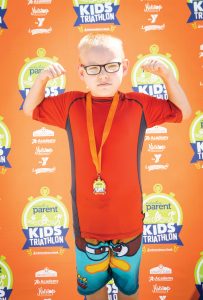 My little guy felt like a champ after finishing the triathlon and getting his picture taken with his medal around his neck. He took a pretty good nap that afternoon, but boy was he proud!
By all indications, the event was a successful partnership between the Owensboro Family YMCA, Owensboro Parent Magazine, and Independence Bank with additional support and sponsorship from Legends, Academy Sports, Kidstop, and Gateway Urgent Care.
Organizers say the event will surely return next year.
"The YMCA has three pillars: Youth Development, Healthy Living, and Social Responsibility. We truly feel this event encompassed them all!" said Chad Hart, Program Director at the Y. "We had parents getting active with their children for the first time, and we saw bonding between children and parents because the kids joined in with mom and dad for training sessions. At the event, it was a great feeling to see the proud parents smiling ear to ear. Knowing they made a positive impression on their child, for a lifetime, was priceless!"
With over 100 kids participating in the inaugural event, the Owensboro Parent Kid's Triathlon presented by Independence Bank is off to a great start, giving Owensboro's next generation of swimmers, cyclists and runners something to look forward to for years to come.