1. 2019 Dazzling Daylilies Festival With Balloons In The Garden
June 20 – 29
Owensboro Botanical Garden invites the community to the Dazzling Daylilies Festival, a week-long event that's fun for the whole family. Running from June 20 – June 29, this year's the festival will celebrate with Ten Dazzling Days for the Tenth Anniversary. The theme is "Under The Big Top: Daylilies On Review, The Greatest Blooms On Earth." Garden Director Susie Tyler gave Owensboro Parent a rundown of all the events that kids will especially love this year.
June 21 @ 5 p.m. – Dogs By The Daylilies—Calling all canines! Youngsters, bring your four-legged companions for a fun day out at the Garden.
June 22nd from 5 – 7 p.m. – The Garden will host a variety of children's activities, including various circus-like entertainment to fit this year's theme. And kids are sure to love a tethered balloon ride and balloon glow.
June 25 – Photography In The Garden – Fun for all ages!
June 26 – Guided Hike For Kids—In, out and around, kids can enjoy a guided tour through the daylilies.
2. Shrek the Musical, Jr.
June 14-16 at The Empress Theater
This youth version of the popular musical features students of grades 3-12 in a fun-filled production sure to be a hit with families! Wacky characters, colorful costumes and music by Jeanine Tesori combine for a delightful trip to fantasyland. Shrek the Musical, Jr. will be performed at The Empress Theater: June 14 and 15 at 7 p.m., Sunday, June 16 at 2 p.m., and again June 21 and 22 at 7 p.m., and Sunday the 23 at 2 p.m. Tickets are now on sale online or by calling TWO box office (270) 683-5333. Advance tickets are $20 adults and $18 students, $2 surcharge for all tickets purchased at the door.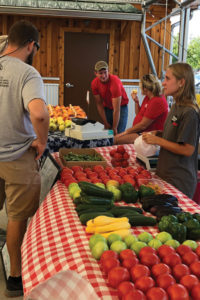 3. Owensboro Regional Farmers' Market
The 2019 Market season will open Saturday, April 20 and run through November 2 at the corner of Triplett Street and Parrish Avenue at 1205 Triplett St.
Hours for the Market:
​April 20 – November 2, Saturdays
8 a.m. – 12 p.m.
June 4 – October 31, Tuesday and
Thursday 6:30 a.m. – 12 p.m.
Thursday Evening Market, June 13, July 11, August 8 from 4 p.m. – 7 p.m.
May 15 – August 28, a satellite market is also located at the Owensboro Health Regional Hospital, 1201 Pleasant Valley Road, on Wednesday from 1:30 – 5 p.m.
4. Take a Kid Camping & Take a Kid Fishing
May 31 and June 1
Sponsored by the Daviess County Conservation District, this is the perfect time to get your family outdoors! Hosted at Panther Creek Park, event check in/set up begins at 5 p.m. at the Feather Landing Shelter. Programs will include bingo, 4-H programs, campfire with s'mores provided, and more. This is a pre-registration event only, due by May 29. Cost is $5 per campsite and $2 per person. Open to all ages, all children must be accompanied by an 18 or older legal guardian at all times.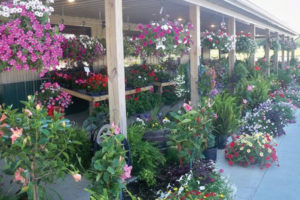 5. Festival of Flowers Trunnell's Farm Market
May 4 from 11 a.m. – 6 p.m.
Trunnell's will be blooming with color during this festival, perfect for the entire family with activities for the young and old. Adult guests can watch and learn how to plant a beautiful pot of flowers or how to grow and cook with herbs. Adults will also enjoy sampling at our cheese bar, savory dip bar, and Trunnell's special fresh herb recipes. Kids will learn how plants grow while planting a flower seed and painting a decorative pot to take home. And as always, children can play on the farm at the Family Fun Acre, ride on the pedal carts, bounce on the bouncy balls, slide on the giant slide, have their face painted, and more! The Animal Barnyard will be filled with all new spring baby animals for the kids to pet and feed. Trunnell's will serve FREE hotdogs! Adults and children under 36″ are FREE. Children 36″ and over are only $7 each includes flower seed planting and painting a pot to take home.
6. Tractor & Implement Show at Diamond Lake
June 15
This event will bring the best tractors and implements from all over! Come see the "Show 'n Shine" with both stock and modified tractors. Judging will be optional. There will also be some "rodeo" type events and a parade through the park.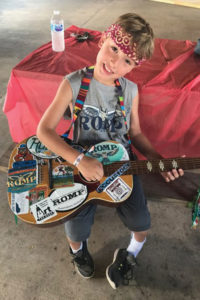 7. Romp festival
June 26-29
This June, ROMP Festival will return to Owensboro for it's 16th year of music and memorable fun! Held at Yellow Creek Park, the festival is nestled in the rolling hills of the 150 acre spacious grounds. Most notable to the park are the serene surroundings, complete with a small lake for fishing, beautiful nature trails, and a rustic pioneer village.
Aside from the very best in bluegrass music ROMP offers a plethora of other activities for the whole family. Families can enjoy free events daily throughout the duration of the festival. Unique interactive musical workshops, local food trucks, craft vendors, and Kentucky Proud products highlight the three-day event.
ROMP offers free admission to kids 12 and under and is a family-friendly festival, so there is much to see and explore. The park's splash pad is always a hit during the warm summer temps, and kids can also investigate the inclusive "ROMP Kids Zone."
The "Kid Zone" is equipped with daily entertainment and fun for children of all ages! This year the area will feature a songwriters workshop where children can write and record their own songs and a family "Uke" jam from Rebecca Smith of The Melody Garden, a nature-based music and movement performer. Kids can also enjoy a variety of crafts daily ranging from ribbon wands to painted rocks. A live banjo demo is scheduled where children are invited to "build their own" afterwards, and harmonica and kazoo lessons will be available from Art the Dude complete with a free instrument. Hootie the Owl of the Western Kentucky Raptor Center, a nonprofit organization dedicated to the conservation of birds of prey is set to make an appearance as well.
Randy Lanham will provide fiddle lessons in addition, and hopes to inspire young musicians to consider taking up a fiddle of their own! Lanham currently leads the Bluegrass Music Hall of Fame and Museum "Saturday Lessons Program."
ROMP is the perfect time to camp with your family since the festival offers family-friendly campsites with quiet hours from 10 p.m. to 7 a.m.
Y'all come! It's certain to be a fun filled festival for the whole family!
8. Live on the Banks
Every Saturday evening, May 18 through September 28.
A FREE outdoor concert series at the Overlook Stage at Smothers Park in Downtown Owensboro. Music will be provided by some of the finest local and regional performing artists and entertainers. Live on the Banks is a family event, open to the public, for all ages, and is presented by the City of Owensboro. Family! Fun! Free! Friends!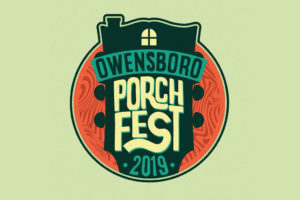 9. PorchFest 2019
June 8 from 3 – 8 p.m.
This one-day open air music festival will take place down Griffith Avenue between Frederica and Robin Road on Saturday, June 8. PorchFest 2019 will celebrate community togetherness and music. This event is free and open to the public and suitable for all ages. PorchFest will focus on highlighting the friendly neighborhood and local musical talent. There will be dancing and listening as music lovers stroll down Griffith Avenue to enjoy multiple acts on "stages." PorchFest invites the audience to stroll freely from "stage" to "stage" to enjoy great musical talent. Bring your own seats, find your spot, sit and enjoy then simply pick up your chairs and take a short walk to the next welcoming stage!
10. Family Guide to the 2019 International Bar-B-Q Fest
FIRST BAPTIST CHURCH PICNIC PAVILLION
Hosted by First Baptist Church of Owensboro, the Family Pavilion is a Festival tradition. This year they will be providing a rest area to enjoy your foods, visit with friends and family and to just relax.
PIE EATING CONTEST
Saturday, May 11 at 12 p.m. at Smothers Park Overlook Stage
Participants show their skills to consume gooey, sweet concoctions. These participants definitely demonstrate why this is a "Festival of Food and Fun!" There are cash prizes for the first three winners.
Registration/Entry: The Pie Eating Contest is open to anyone 12 years old and under. There is no registration fee.
ARTS & CRAFTS
Friday, May 10 from 5 – 10 p.m. & Saturday, May 11 from 10 a.m. – 10 p.m. Veterans Boulevard and North/South Streets from Veterans to Second Street
The International Bar-B-Q Festival provides a tremendous opportunity to find unique, hand-made arts & crafts as gifts for friends and family—or yourself.
Talented crafters offer a wide range of items, including jewelry, decorative items, clothing, bows, candles, purses and other leather goods, wood carvings, paintings and numerous other works of art. Many artist and crafters are completing items during the Festival, providing an entertaining demonstration of their talents.
Bench Press & Deadlift Competition
Saturday, May 11 at Owensboro Convention Center – first floor (501 West Second Street)
Weigh-In Sign-Up: 8 – 9 a.m. Lifting Begins: 9:30 a.m.
Events:
Best Raw Bench
Best Equipped Bench
Best Dead Lift
Plus Special Awards
Registration: Sign up and weigh in on the day of the event
5K Run/Walk
Saturday, May 11, 2019 at 8 a.m. at McConnell Plaza (100 St. Elizabeth Street)
Produced by the Owensboro Family YMCA, there is no better way to work up an appetite or work off a meal than to participate in the Annual International Bar-B-Q Festival 5K Run/Walk. Join the fun and exercise! Proceeds benefit the scholarship programs at the Owensboro Family YMCA—have fun, be healthy and help others while enjoying the BBQ Festival weekend!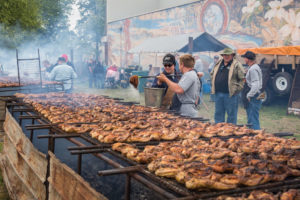 The 2019 Mutton Glutton Sponsored by Kentucky Legend
Saturday, May 11 at 4 p.m. at the Festival Plaza Stage
Joey Chestnut returning to defend his record! A Guinness Book World Record was set with the first national competitive mutton sandwich-eating contest held in Owensboro, KY in May 2017. Joey Chestnut was the winner again in 2018! Prize winning competitors will join us again on stage to see who can set the record in this category. The big question can Joey Chestnut's 2018 record be broken in the food competition world?
Special Notes about this year's festival:
Stroll through the concessions area for your favorite treats (snow cones, funnel cakes, popcorn, hot dogs and of course—BBQ)
Families can enjoy music of all types at various stages throughout the festival.
A family favorite—carnival rides—will be provided by Casey's Rides, with a specific area for younger children.
Be on the look out for WBKR's RV Contest! What family wouldn't enjoy winning?