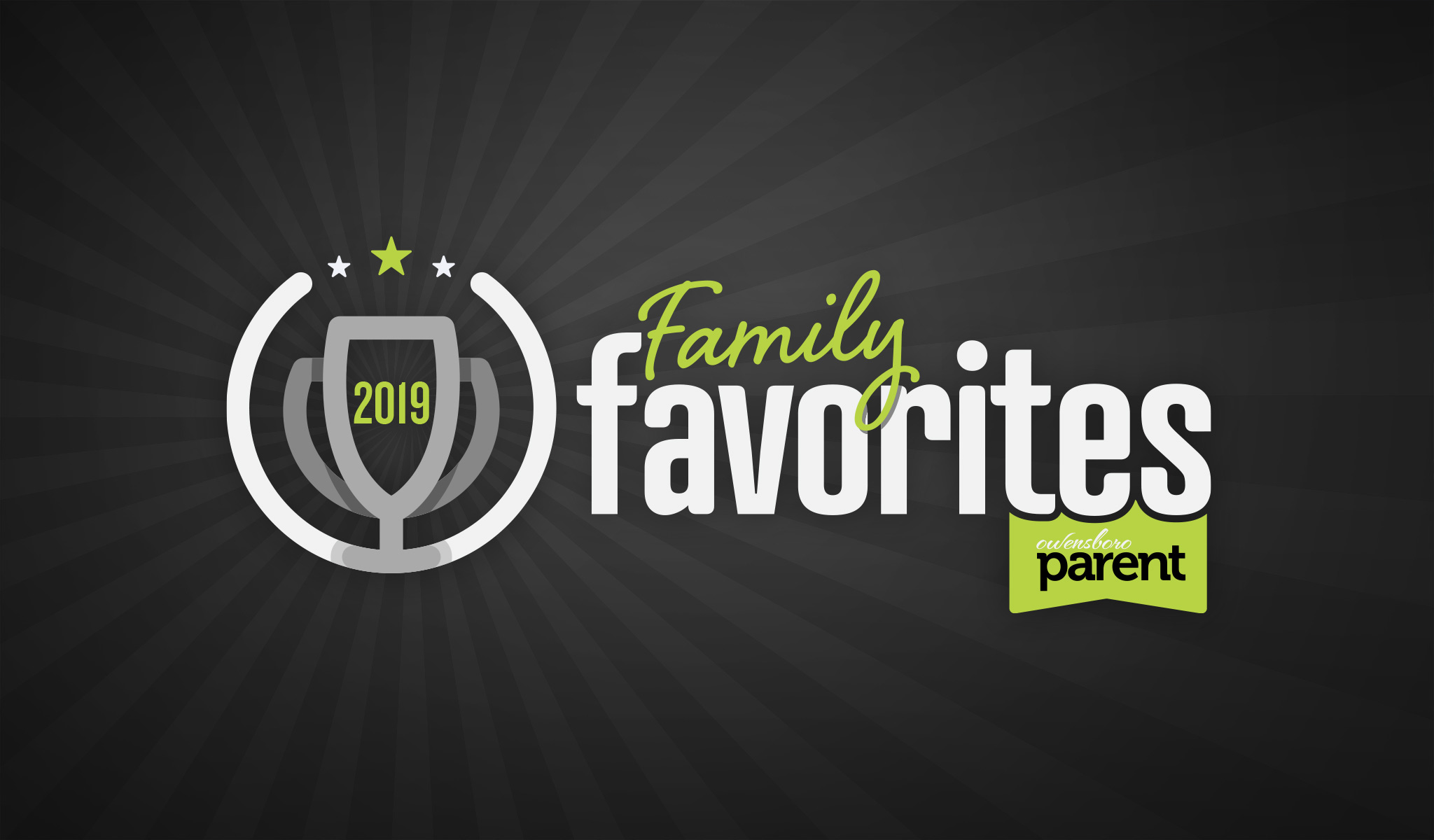 From pediatricians to preschools, from sweet treats to boutiques—we asked you to tell us your favorite local spots and you answered. We are pleased to announce the winners of our Owensboro Parent Family Favorites contest!
This is just the second year Owensboro Parent has offered this contest, where you, our loyal and trustworthy readers, have the opportunity to make your voices heard. This year, hundreds of you cast your votes for favorite park, photographer, pediatric dentist, preschool and kids eat free restaurant (among many others). Take a look at all of the Family Favorites and see if your choices made the cut.
Favorite Preschool
Play Smart Preschool
At Play Smart Preschool, their mission is to provide an engaging, thoughtful learning environment for your child. While preparing your child academically for kindergarten, through play, they are also preparing them socially and emotionally. Their curriculum is theme-based, and each developmental skill directly correlates with the theme.
Favorite Kids Eat Free Location
Texas Roadhouse
How could Texas Roadhouse not win? Yummy food for Mom and Dad and the kids eat free (Sundays from 11 a.m. – 3 p.m.)? Delicious rolls with cinnamon butter? Birthday singing all around? And you can throw your peanut mess on the floor? It's a parent's dream!
Favorite Youth Sports League
Lil' Sluggers T-ball League
Lil Sluggers offers a Christ-­centered sports experience where kids develop athletic skills for the game and Christian values for life. The Lil Sluggers T-Ball league is for girls and boys, ages 3-4 and 5­-6. Parents love the non-competitive, positive atmosphere, where kids are encouraged to have fun by coaches and volunteers that display the love of Jesus. Lil Sluggers has become so popular that registrations typically closes in record-setting time each season!
Favorite Sweet Treat
Orange Leaf
Orange Leaf offers freedom from average, every day options. From flavors, cups, and cones, to smoothies, shakes, and cakes, Orange Leaf offers the freedom to create whatever sweet treat they can come up with next. Their froyo flavors are the best, because they make them that way. No really, they do. Each flavor recipe is uniquely theirs and you can't get it anywhere else!
Favorite Kid-Friendly Restaurant & Favorite Restaurant Play Area
Chick-fil-A
Chick‑fil‑A Owensboro believes in providing guests the best restaurant experience they can. From the delicious chicken nuggets, to every "it's my pleasure," to the clean play area and the overall family environment, it's no wonder Chick-fil-A Owensboro is the best kid-friendly restaurant! Did you know you can even turn in your kids meal toys for a free ice cream cone?
We all know a restaurant play place is a parent's best friend. If the weather isn't suitable for a day at the park, why not grab lunch and let your kids burn off energy indoors? And there is no better or cleaner place than Chick-fil-A! Good food with healthy options for parents and kids, friendly staff and a fun play area?! What more could any mom or dad ask for?
Favorite Park
Smothers Park
The crown jewel of the downtown Owensboro renovation, Smothers Park has become a go-to spot for family fun! The park is home to three signature fountains, a spray park, the Shelton Memorial, and everyone's favorite — Lazy Dayz Playground, which was named the top playground in the world by Landscape Architect's Network in 2015.
Favorite Dance School
Johnson's Dance Studio
By offering classes for ages 2 & up in jazz, tap, ballet, modern, hip hop, contemporary, creative movement, acro dance, aerial dance, adult classes, competition team, and more, JDS allows every dancer to enjoy and explore the art of dance!
Favorite Daycare
Charlotte's Web
Passionate and engaging teachers grow, learn, and imagine with your child at Charlotte's Web Preschool & Nursery. They never miss an opportunity to blend play with early education curriculum, providing a balance between choice and structure activities, between group and individual pursuits, and between teacher and child experiences. Charlotte's Web welcomes children of all abilities, with the commitment to provide quality care and education to each child.
Favorite Food Delivery Service
Big O Takeout
Big O Takeout is owned, managed and operated by local people who live, work and care about the communities they serve. They are committed to partnering with the best restaurants to provide a convenient service that gives local people the freedom to feed their families and lead their busy lives without missing a beat!
Favorite Swim Instructor
Katie Duncan at the Healthpark
Katie Duncan has been a swim instructor for 12 years, teaching at Owensboro Health Healthpark for 7 years. She decided to teach swim lessons because she grew up in the swimming world and saw a need to help kids learn to swim and enjoy being in the water. "I just love passing on a passion for water!" Katie said. The best part of her job is watching everything click for someone and developing relationships with her swimmers. "Seeing them gain confidence in themselves and in the water is the most rewarding part!"
Favorite Children's Consignment
Robin's Resale & Boutique
Serving Owensboro for 25 years this November, Robin's offers consignment for the entire family as well as new, trendy boutique clothes for women of all sizes as well as monogramming.
Favorite Children's Shoe Store
Shoe Stop
It is an exciting time when your kids start walking — an important milestone in your baby's life! But equally important is providing the right footwear to support their journey. Shoe Stop is ready to equip your beginning walkers with the best shoes as well as fitting them for shoes for every occasion as they grow up. Professional fittings and a wide variety to choose from means you are sure to find the best shoes for your kids!
Favorite Gymnastics Center
Owensboro Gymnastics & Fitness Center
Owensboro Gymnastics has been in serving Owensboro since 1976. They offer classes from potty-trained age through high school. Classes range from beginner, intermediate and advanced classes that are one hour a week. They also have a multi-level competition team.
Favorite Boutique for Moms
Peacocks and Pearls
Your source for beautiful, fun ladies' clothing, accessories and jewelry, in a relaxed and serene atmosphere. Timeless style and affordable fashion for women of all ages.
Favorite Kids Clothing Store
Kidstop Children's Boutique and Stride Rite Bootery
Kidstop Children's Boutique and Stride Rite Bootery specializes in clothing and shoes for girls preemie–16 and boys preemie-7, as well as Stride Rite shoes, toys, dolls, gifts, hair bows, and accessories. Kidstop offers clothing and gifts that are sure to be treasured and passed on for generations to come!
Favorite Pediatrician
Dr. John Houston
Dr. Houston is committed to providing comprehensive medical care to children and adolescents in a caring and supportive environment. He values long-term relationships with his patients and their families and has been serving Owensboro as a pediatrician for over 35 years.
Favorite Pediatric Dentist
Dr. Carol Braun, DDS
Serving Owensboro for 33 years, Dr. Carol Braun offers preventive, restorative and limited surgical procedures to patients 0 to 18 years old. Dr. Braun is committed to matching the needs of her patients and their families with her dental skills and commitment to providing a safe and enjoyable dental visit.
Favorite Spray Park
Horse Fork Creek Park
Owensboro's newest spray park, Horse Fork Creek offers refreshing family fun on the east side. At nearly double the size of the splash parks at Yellow Creek and Panther Creek parks, Horse Fork has 23 individual spray features — 13 ground mounted sprays and 10 above ground features. Kids enjoy a frog, Cattail Twirl and a 20-ft. tall dumping bucket.
Favorite Place for Family Fun & Favorite Birthday Party Location
Elite Air Extreme Fun Center
What better way to celebrate a birthday than with wall to wall trampolines? Elite Air trampoline park features over 75 trampolines including the famous angled wall trampolines, trampolines in our state of the art airbags, dodge ball and their amazing main court.
You can't find much more fun than an outing to Elite Air! With specials always available, Elite Air is a great deal for family fun. Check out their weekly family nights where the whole family (up to five people) can jump for two hours for $25.
Favorite Newborn/Family Photographer
Mustard Seed Photography
Mustard Seed Photography offers senior, engagement, wedding, newborn and family sessions. Photographer Jacy English believes a session at Mustard Seed is all about the client. "It's my job to tell your story—to catch those fleeting moments of childhood and to document those tiny feet and hands while they're still small," she said. A simple scroll through the client testimonials on her website will show why Mustard Seed is a family favorite!
Favorite Labor & Delivery Nurse
Brittany Desper
Brittany Desper has been in Labor & Delivery at Owensboro Health for a total of 8 years—the first 3 years as an RN and for the last 5 years as a nursing supervisor. Before she became a nurse, she worked in scheduling in an OB/GYN office, but wanted to do more for patients. After finishing nursing school, she went straight to L&D—her passion. "Watching miracles be born everyday and getting to play a small part of ensuring a safe and happy delivery for these mother's is so rewarding," Desper said. "I love the long term bonds that are built with every patient I care for."
Favorite Birthday Cake
Dalishas Bakery & Cafe
Not only are cakes from Dalisha's delicious (hence the name), but they are also beautiful and creative! No matter the theme of your kid's birthday party, Dalisha's can make a cake to match! Space theme—how about an astronaut helmet cake? Unicorn, Shopkins, Disney, Peter Rabbit, football, Spongebob, LEGO—you name it, Dalisha's can make it!
Favorite Place for a Kid's Haircut
All About You Salon & Spa
The name says it all. The All About You staff is dedicated to providing each individual client—no matter age—customized services based on their personal needs. With a highly-trained staff offering services from haircare to massage and permanent makeup, All About You Salon and Spa will continually offer you the latest in every fashion trend. Catering to, not only your beauty needs but also offering you a place where you can escape, if only for a few hours, to relax and unwind with us.
Favorite Place for Rainy Day Fun
Daviess County Public Library
With its brand new children's area, it's no wonder why Daviess County Public Library was voted a family favorite for rainy day fun! Imaginative play has never been easier than with the interactive features of the new and improved children's section. One of the many children's programming options—often with your child's favorite book character— is also a great way to brighten even the gloomiest day!